Beaver at large reminds one of blessings
Beaver at large reminds one of blessings
A story of a beaver at large reminded me of the blessings I have living in a small town.
In my community, each week, the police blotter announces pets causing problems, usually a dog at large or a cat at large. Sometimes owners get spoken with. At other times, the animal at large cannot be found. Of course, there are other reported crimes of more significance, but alas these naughty animals persist in causing trouble.
A specific beaver incident
Then one evening, I read the newspaper to find an alarming animal at large in the police report. Not a bear. Not even a bull, which one might expect in a farming community. No, it reported a beaver at large, roaming about near the main street of town.
Let me set the scene: 11:20 p.m. on a wintery evening. Many residents snoozed away, but someone happened to glance out upon the street. What did his eyes witness?
Perhaps this large rodent threatened to chew down an electric pole? Maybe he was just out for a late stroll, getting away from the dam and the constant swoosh of the river water hitting a loose twig. Creak. Creak. Creak. Drove him bonkers. He had to get out!
Needless to say, he found himself surrounded by law enforcement.
Imagination fills in blanks
"You're a little ways from the river, buddy," the officers might have said, their batons twitching at their hips. One might have clapped his gloved hands to keep warm, encouraging the little guy to speed up his exit.
Imagine. A crunchy maple leaf scraped along the gutter. Perhaps the wind picked up.
Mr. Beaver might have sat on his haunches, fingering a tasty twig he'd found, seasoned with street salt.
The sparse report details simply say, "Police escorted it away from downtown area."
For Mr. Beaver's sake, I hope they escorted him toward the river.
Put yourself in Mr. Beaver's shoes, if he wore shoes. Which, of course, he didn't. On his evening stroll, people who weren't supposed to see him waddling down the street stop to harass him. He wasn't barking and causing a ruckus like some dog at large. He wasn't starting fights like some cats at large.
No, he was just a beaver in the wrong place at the wrong time.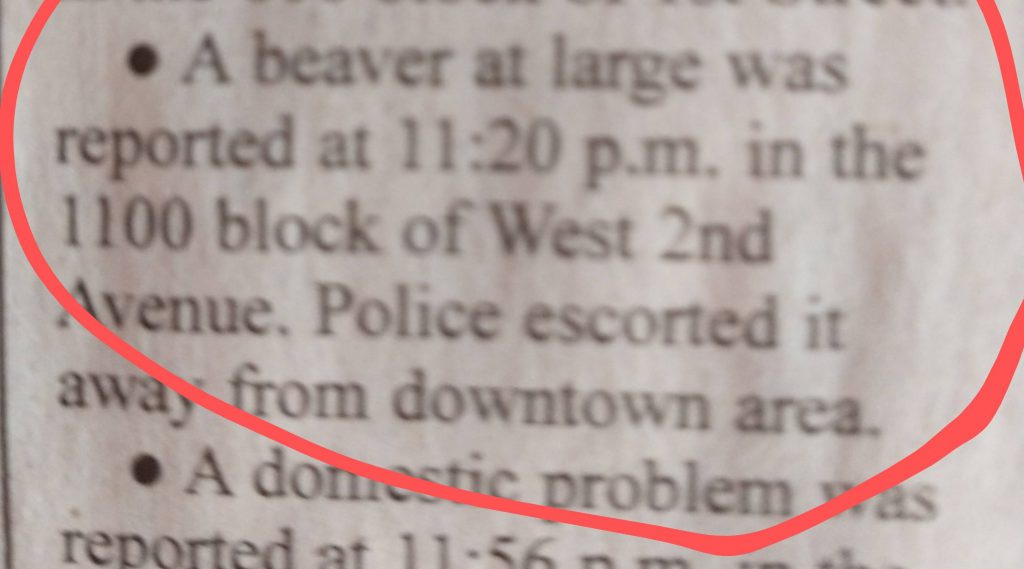 Other interesting small-town events
Mr. Beaver probably didn't appreciate their efforts to keep him safe. Most people slept right through any possible threat to their safety. In fact, this reminds me of the random electrical outages suffered in my neighborhood—but wait. No, no light poles were gnawed down. Just coincidence, I guess.
I love living in a small, rural town. Once a livestock trailer opened and police had to coral some runaway pigs. That call caused a lot more exercise than this beaver at large.
Of course, a clinic camera in the county seat caught a bear walking by. That caused me to be more observant on my walks, but alas, the most threatening animal I met on a walk was a skunk. I hightailed it the OTHER way, let me tell you.
I hear if you meet up with a beaver, he'll whack his tail on the water, making a sound like gunfire. That privilege sounds exciting.
Sometimes reading the police blotter tickles my funny bone. Often it reminds me how lucky I am to live where I do.
Did you read about an interesting animal in your police report? Please share.