Curriculum choices for homeschools
Curriculum choices for homeschools
Another homeschool mom shared with me a curriculum she is super excited about. This got me thinking about sharing more curriculum choices with you.
Before I share some curriculum choices I have tried or heard about, I wanted to share what she said about Memoria Press.
This mom hadn't intended to switch curriculums, but she loved a Memoria literature program and loved how it was laid out and how simple it was to use. She found more success with the Memoria spelling program also, noting she thought it was more systematic and made more sense.
So if you've tried Abeka, which she is comparing Memoria with, and find it frustrating, this blog subscriber recommends Memoria "because MP is equally as advanced and rigorous, but MUCH easier to teach and follow in the homeschool setting."
Why she recommends this curriculum choice
She wrote: "I know you used and loved Abeka, so obviously share your positive experiences! But if you ever encounter a mom who is just overwhelmed by it or not loving it, I just cannot recommend Memoria Press enough.
"They too are a long-standing curriculum company, and they too produce a curriculum that is the same as they use in their private classical school. The difference is, they acknowledged that people struggled to follow the pace and curriculum guide that was equivalent to their actual school where there were trained teachers and LONG school days. So, they rewrote it to be specific to homeschool and SIMPLE for homeschool moms to follow. It's very, very similar to Abeka in how it teaches traditional phonics—the special sounds of Abeka are almost identical to the phonics flash cards of Memoria Press, just introduced in slightly different orders with a slightly different system.

"Abeka is such a solid program, and their phonics did work well, but we were drowning. It was so hard to follow their curriculum guide and [my son] couldn't spell to save his life with their spelling program."
I appreciate her sharing that with me so I could share it with you!
More curriculum choices
Here are some other curriculums to consider if you are still shopping.
Sonlight Homeschool interested me quite a bit, but since I already had invested in Abeka, I stuck with Abeka. I appreciate that it is literature based, something I'm drawn to.
In my first years of homeschooling, I checked out Alpha Omega Publications. We used one of their Spanish programs in the early grades.
My first year, I tried Bob Jones grammar because I was debating between them and Abeka. I have a few Bob Jones literature books. I don't remember why I chose Abeka over Bob Jones, but I have friends who used Bob Jones and were pleased.
CBD offers one-stop shopping
There are many curriculums out there. For example, Christianbook.com (CBD) sells homeschool curriculums which include Bob Jones (BJU Press), Apologia, Math-U-See, Omega, Abeka, Saxon, ACE PACEs, Master Books, Savvas Learning, Christian Liberty Press, and ACSI/Purposeful Design. Main courses in curriculums listed on the site include math, language arts, science, Bible, history, handwriting, literature, logic, spelling, and writing. Their offered electives include art, music, world languages, geography, speech and debate, character, health and fitness, home-economics, coding and computer science, consumer math, typing and keyboarding, and much more. I included several electives in our homeschool. Knowing how to type and use a computer is essential in today's world.
CBD offers teaching resources, books to encourage and guide, supplemental subjects. Resources vary but include puzzles and maps, flashcards, DVDs, CDs, etc. This site offers a plethora of information for you to investigate. I like to receive the catalogs because they are easier to mark up. After I mark them up, I think about the options and ask others who have used the items I'm interested in about their satisfaction with the products. Did the item live up to the advertising hype?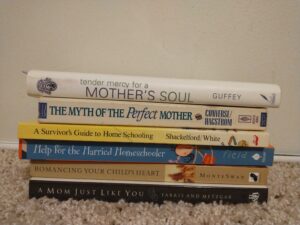 Magazines and books provide options too
Subscribing to a homeschooling magazine provides curriculum reviews, encouragement, and sometimes sample lessons to share.
Books I own about homeschooling include the following: The Home Schooling Mother, A Mom Just Like You by Vickie Farris and Jayme Farris Metzgar, Romancing Your Child's Heart by Monte Swan, Help for the Harried Homeschooler (A practical guide to balancing your child's education with the rest of your life) by Christine M. Field, and A Survivor's Guide to Home Schooling by Luanne Shackelford and Susan White. Some other helpful titles on my shelves are 20 Surprisingly Simple Rules and Tools for a Great Family by Steve Stephens, The Myth of the Perfect Mother by Kimberley Converse and Richard Hagstrom, and Tender Mercy for a Mother's Soul by Angela Thomas Guffey. As homeschooling moms, sometimes our confidence wavers. We get tired, maybe even a little burned out. Hearing from moms who get it helps a great deal.
Read here about my use of Abeka and Apologia.
What websites, blogs, magazines, or books have helped you with your homeschooling? What curriculum choices do you recommend?