13 things for kids to find on a nature hike
13 things for kids to find on a nature hike
A nature hike is great fun and incorporates science, exercise, and even art, if you'd like. Are you looking for some outdoor scavenger-hunt-like ideas to vary your homeschool day this fall? I have listed 13 here.
These ideas are for preschoolers and elementary aged students, but all ages enjoy getting outside on these pleasant autumn days! Community, county and state parks, quiet streets, roads or lanes, bike trails, farms, and woods offer wonderful opportunities for exploration. During your exploring, take a sketch pad, camera, or paper bag to gather or record your collections.
Creative students may want to make a booklet or create a video with music to share with grandparents.
What to look for on your nature hike
What shall you look for? These ideas will get you started, but I'm sure you can add more of your own.
Search for different shaped leaves and different colored leaves, different colored flowers and different kinds of flowers.
Scan the paths for different kinds of nuts. Some are for the squirrels like acorns, and some are for people, like walnuts. (Be careful. Walnuts stain.)
What kinds of street or road signs, do you find?
Can you find an owl pellet to take home to dissect? This is an interesting experiment that shows kids what owls eat. We found pieces of bone. Maybe you can identify the critter eaten. It could be a vole. Did you find some fur? Be sure to wear disposable gloves when you dissect that pellet.
Did you see any animal scat? What was it from? When we were on vacation in Montana, we found bear scat. You can be sure, we headed back the way we came after that!
Observe metamorphosis in action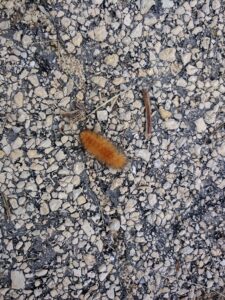 Look for caterpillars. Are they moth or butterfly caterpillars? Take one home with some food for it, of course, and see what it transforms into.
Several times over the years, we found a monarch caterpillar (not pictured here) and gathered milkweed to watch metamorphosis in action. If you find a monarch caterpillar, take home some milkweed, and be sure to know where to get a fresh supply. For other caterpillars, take some of the plants that you find it on, so it has something to munch on before it spins its cocoon or chrysalis.
We had a book that explained what happens when the monarch caterpillar changed. If you cannot find a book at the library, online resources abound.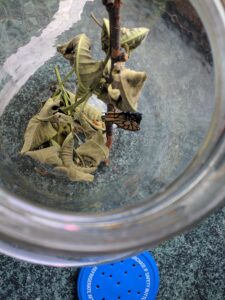 We used a large pickle jar with plenty of holes in the lid.
Once you see the chrysalis turning clear or it looks black, pay attention. The transformation happens fast! Sometimes we stepped away for a minute and missed the exciting new birth. It's fun to watch. It also takes a few hours for the wings to dry so don't let the butterfly out, or you'll be chasing it around the house.
More things to find on your nature hike
Can you identify sumac and poison ivy? Don't touch, of course. These are good to know when you are walking about any time. Remember leaves of three, let them be!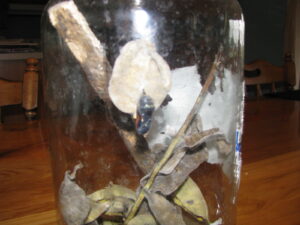 Notice the birds. Are they heading south? What kinds do you see? What kinds stick around all winter where you live? Have several left already? Which ones?
Are there any bushes or trees bearing fruit? What kinds are they? Are they edible or not? Perhaps you can make pies or buckle recipes. Yum!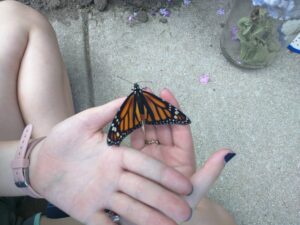 Look at the trees some more. Are there any that lose their leaves sooner than others? Identify them.
What nature hike ideas will you add? Eyes widen in wonder for children of all ages. From toddler to teenager, watching the monarch transform never got old.