Kayaking: finding peace on the water
Kayaking: finding peace on the water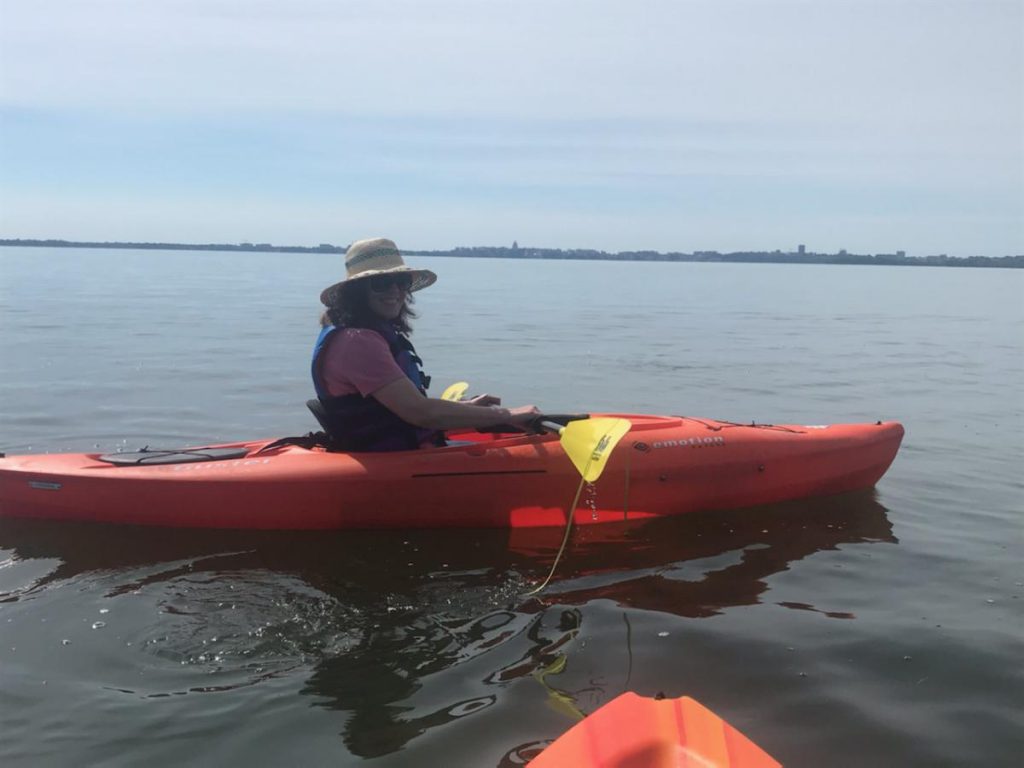 My life slipped into routine. I became predictable. The whole culmination of 2020 left me disappointed, discouraged, disillusioned. I needed to break the mold, try something new, have an adventure.
My kayaking adventure
My sister offered an opportunity one Monday in July when she invited my daughters and me to kayak. Anticipation and fear wrestled inside me as the day approached, but I triumphed and discovered kayaking: finding peace on the water.
My daughters love kayaking, canoeing, and paddle boarding so no qualms beset them. My sister blogs about kayaking. So, you can imagine me feeling a bit intimidated. I wanted to do this, but insecurities raised their ugly heads. I imagined capsizing and struggling to get back in.
But God blessed us. Temperatures in the comfortable low 80's and calm waters made a perfect day for me to learn. We unloaded the kayaks by the dock. While my sister parked her vehicle, we loaded our kayaks with our gear. My smooth Crocs on the slippery, algae-covered concrete at the dock caused me to lose my footing. I grabbed onto the wooden dock to steady myself, but I managed to injure my knee and soak part of my shorts. So much for looking suave.
Despite this rocky start, we pushed off into Lake Mendota at Governor Nelson State Park. And you know what happened? I lost my fear of the deep water. My sister and I visited while the girls paddled ahead. We admired the scenery which included the capitol in the city skyline and expensive homes along the shore. A few people in jet skis and motor boats skimmed along. We had a fun day and spent almost four hours on the water.
Some take-a-ways about fear
If, like me, insecurities arise when you try new adventures, here are some tips to help you move forward:
Ignore Fear's lies taunting you in your head. You know most of our fears never come true.
Do it afraid. Yes, kayaking was new to me, but my sister is an expert. I trusted her guidance. Learning a new skill left me with a sense of accomplishment and of overcoming.
Concentrate on your eagerness to step out of your comfort zone. Building your courage by trying new things keeps life from getting mundane. Besides learning new skills, you can meet new friends. New memories are created to share.
Think about regrets. Do you want to regret not trying? One of my favorite children's authors, Burton Cole, wrote in a column once that failure is a lot easier to live with than the regret of never trying. Sometimes a funny story or a life lesson might emerge from what you consider a fail; however, if you're growing, you can't be failing. Making mistakes is a part of learning. It's nothing to be ashamed of. (To learn more about Burton Cole's books, click HERE.)
As Psalm 34:4 says, "I sought the Lord, and he answered me; he delivered me from all my fears." (NIV) 2 Timothy 1:7 also says, "For God has not given us a spirit of fear and timidity, but of power, love, and self-discipline." (NLT)
To read my sister's perspective of the day, visit her kayaking blog HERE.
I hope to kayak again soon. Next time we vacation at a spot where we can kayak, I'll join in rather than watch from shore. Will you share a time when you tried something new?