Tips for life's transitions
Tips for life's transitions
I enjoy listening to Focus on the Family broadcasts once in a while. Several years ago when they were on the radio station I listen to, it was easier to hear them daily. Now, I must seek them out online, and that means planning to listen on purpose. I tend to listen while I cook in the kitchen or exercise in the house. I tried listening while I walked, but that didn't work out because apparently I need internet connection on my phone. While listening to a few broadcasts, it struck me that the advice applied to transitions, something I struggle with. Here are some highlights I remember:
Acknowledge grief
Grief during transitions is acceptable and normal—others experience sorrow over changes too. You don't have to hide your emotions by telling everyone you are fine. Be honest about your feelings. Pushing them down prolongs the pain, and ignoring them is telling yourself a lie. Everything isn't okay, so admit it. Sharing your honest feelings helps with the healing process.
Laugh
Find books, blogs, columns, articles, movies, podcasts, etc. that make you laugh, and laugh often. I purposely went to find old sitcoms that I remembered made me chuckle. I reread books that made me laugh. (James Herriot's All Creatures Great and Small series and Jan Karon's Mitford series are examples.) One of my critique partners writes humor. I find his columns and books hilarious. They are great medicine for the soul.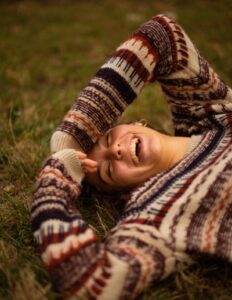 Explore
Take time to explore new options for spending your time. Revisit activities you used to enjoy before you got so busy with the family that they got pushed to the side. Investigate and compare, and then try them out. Try some by yourself or with friends. Make new friends. Try some with your spouse.
Reengage
This brings me to the next one, reengage with your spouse. Try dating each other again. Take a class together. One class I've been trying to find but seems elusive right now is ballroom dancing. It sounds fun, plus it can keep us in shape. The way my research has led me so far means traveling some. That might work depending on the day of the week, I suppose. Some online options keep popping up on my feed. Perhaps we will try one.
New jobs
Moms often find the transitions of an empty nest harder than dads because moms have spent more time each day caring for the children. There are families where the roles are swapped, but a majority of the time, it is mom taking care of the small details of raising the children. Add homeschooling, and one can understand how such a transition means many changes. We worked ourselves out of a position, so now we must seek new jobs. That alone causes stress.
Positions don't equal worth
Remember that our work and roles don't define who we are; they just describe a part of us. Our positions don't determine our worth. As we adjust through our various transitions, remember that this too shall pass. Stretching and growing, which are healthy and good for us, lead us into our next adventure or phase.
What other advice can you add? Please share.
Photo by Molnár Bálint on Unsplash.