Veterans share stories (Part 3)
Veterans share stories (Part 3)
This is the third and final part of my series honoring veterans for this month. I hope the stories these veterans shared of their lives blessed you.
Kurt Winkler
Kurt Winkler, whose father, brother and son also served our country, served 6 ½ years in the U.S. Marine Corps from 1985-1991. His enlistment was extended because of the Persian Gulf War. His story includes his veteran family members.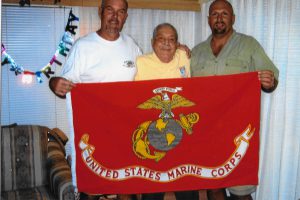 "I enlisted initially for the reserves because working in a factory was very tedious. I wanted to give it a try after talking to several people who were in the reserves. My dad asked me about the military before that, but I said I didn't want to commit for that long. When I went to Milwaukee to leave for boot camp, one of the Marines asked me if I knew I could get a big bonus, etc., because I had good test scores. I went home to consider it and decided to go active duty and shipped out again a month or so later. My dad and oldest brother served in the Corps in WWII and Vietnam so when I enlisted, I did not even consider another branch although I knew very little about their service; they rarely talked about it."
Where he served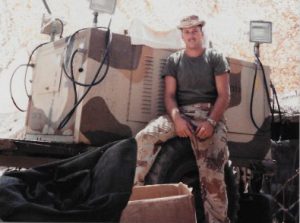 Kurt went to boot camp at MCRD San Diego, CA. Electrician school in Camp Lejeune, NC, followed that. Then he spent two years in MCAS El Toro, CA. From El Toro, he returned to Camp Lejeune for generator mechanic school. Next came Operation Brightstar 86 in Egypt and a long stint in Twentynine Palms, CA. From California, Kurt went to MCAS Kaneohe Bay, HI, for three years. While stationed in Hawaii, he participated in multiple operations on the Hawaiian Islands and in an operation in South Korea before being deployed to Desert Storm. His last duty station was Camp Lejeune again from where he was discharged as an E-5 sergeant.
Memories grow fonder with age
"It's funny—many have good times while serving but don't really like it much, then later in life look back on those times fondly. Craig, my oldest brother who served in Vietnam, discussed this at length early this summer. We had some good times, some bad, and some miserable, but especially in the Marine Corps, you kind of take those tough times and wear them as badges of honor.
"Marines are about the brotherhood, the bond of service, especially in combat. I read an article recently that put it into perspective: while you were on active duty you complained and bitched about everything, talking about how much time you had left, hurry up and wait, the politics of it all; but after you were out, when you hear someone bad mouthing the Corps, you defend the honor of the Corps all the way. Others eat, drink, and breathe the Corps and love every aspect their whole life even after they have retired. I believe when you face a challenge, it can be very difficult; but when you meet the challenge, although it was very tough and sometimes miserable, you look back on it and say, 'Wow, I did it!'
Accomplishment, comradery enjoyed most
"As far as what I enjoyed, I think it was the sense of accomplishment after doing something tough. I also enjoyed seeing many parts of the world I never would have otherwise.
"I look at pictures and find it hard to believe I was in Cairo, Egypt, went in the pyramids, rode camels, and walked the streets of Cairo. It seemed to be just like a movie. I watched sunsets from many areas of the islands of Hawaii, swam in the beautiful waters, and partied in Waikiki. The islands did get claustrophobic after three years. I went to the site of the 1986 Olympics in Seoul, Korea; I went to Pohang, Korea, numerous times. We saw dog carcasses hanging in meat shop windows, and ladies of the night seemed to be everywhere; that is typical when a big operation is nearby, and yes, they do say 'I want to love you long time, baby!' Filling sand bags on my birthday in Pohang all day long and having a very bad wind burn on my face is a memory I can't forget.
"I also enjoyed the comradery most of the time. I had some great friends and great memories with them! You could count on someone wanting to do something most anytime.
"Boot camp was definitely tough, but the recruiter told me almost exactly what it would be like so I was prepared. I remember the first day when I was posted as a road guard and my company was nearly out of sight; I took off running after them, and of course, got reamed by a DI (drill instructor) for leaving my post. He asked me if I knew my fifth general order, and I did—to quit my post only when properly relieved; he was shocked and said no more. I still am sure he forgot me, and I would have been there for hours!
Politics in all areas of life
"I found the level of military politics very agitating. You can't just be good at your job and other things that go with it. You had to watch your back with some and kiss others' rears, but now I know that is the same with most any job. I wish it would have been work hard, play hard; I would have likely stayed for my 20 if that was the case."
Marines definitely learn discipline and dedication. He pushed himself harder physically and mentally than he thought he ever could. He enjoyed his work (MOS, Military Occupational Specialty) as an electrician and generator mechanic, although the skills didn't transfer too well to the civilian world. "I got pretty good at climbing power poles."
Respecting country and flag honors veterans
Kurt doesn't feel he really needs anyone to thank him personally, but it is nice to hear on occasion. He would rather see people respect the military, the country, and the flag. "I am very tired of the hate of country and flag. Helping active duty service members and families where needed would be a great gesture also as they sacrifice so much."
Serving in the military develops a brotherhood and bond. "Like a sports team or college experience, it's difficult to replicate that feeling anywhere else," he said. "Combat veterans, especially, have that bond that will be there until the day they die."
Generational ties
Kurt has seen this not only in his own experience, but in the experiences of his father, brother, and son.
"If anyone takes anything from my little time in the military, it is that I was proud to serve and wouldn't trade it for the world. I am most proud of sharing being a Marine with my father and older brother even though it wasn't planned that way. I also have a son (Aaron) serving in Japan in the Navy.
"My dad (John) served in WWII as an automatic rifleman in the Pacific theater, and my brother (Craig) served in the Chu Lai area of Vietnam as a mortar man. Neither was injured badly but did have wounds that would have qualified them for the Purple Heart; neither put in for it, which to me says worlds about the men they were and are. I have learned over the past 15 years or so what they actually went through and have kept inside. Only later in life have either talked about it much. I am so proud of what they did and endured for us!
"For my dad's 80th birthday, I got him a Marine Corps NCO sword. I wasn't sure he'd even know what it was right off, but he only had to pull the slightest bit of the handle out before he started sobbing. Of course, that started everyone else crying too, but those were good, nostalgic tears, reinforcing the bond between those who served and the gratitude of those who shared that moment."
Kurt also worked with other Marines to present his brother Craig with a Marine Corps NCO (Non-commission Officer) sword this summer. I commend this loyal Marine, brother, son, father, husband, and friend. Thank you for your service, Kurt, Craig, John, and Aaron. Thank you for sharing your story with us, Kurt.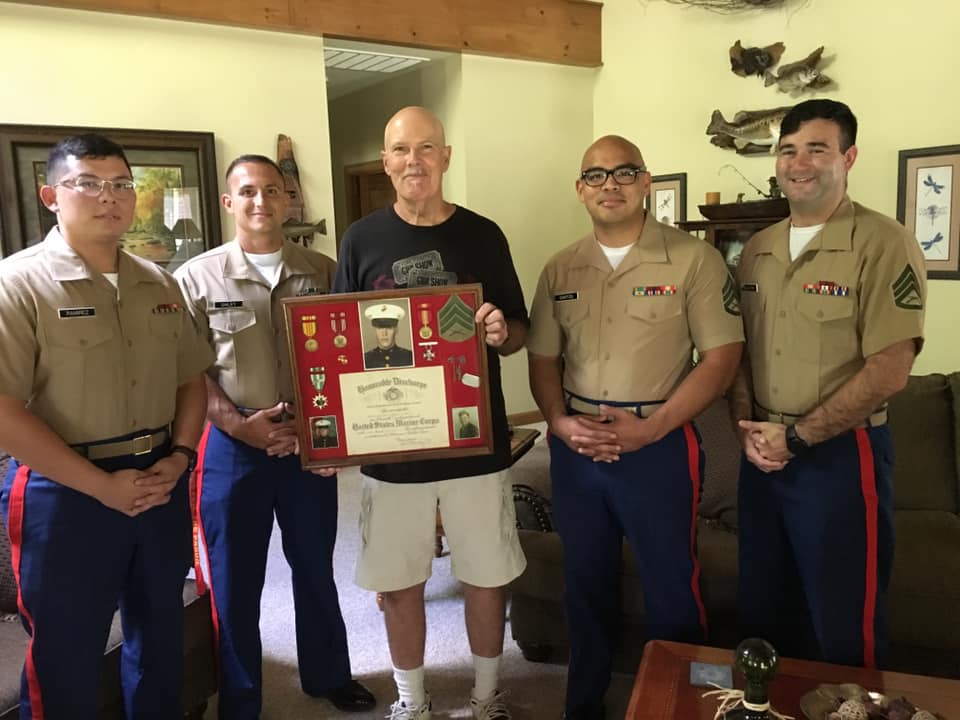 Dale Roenneburg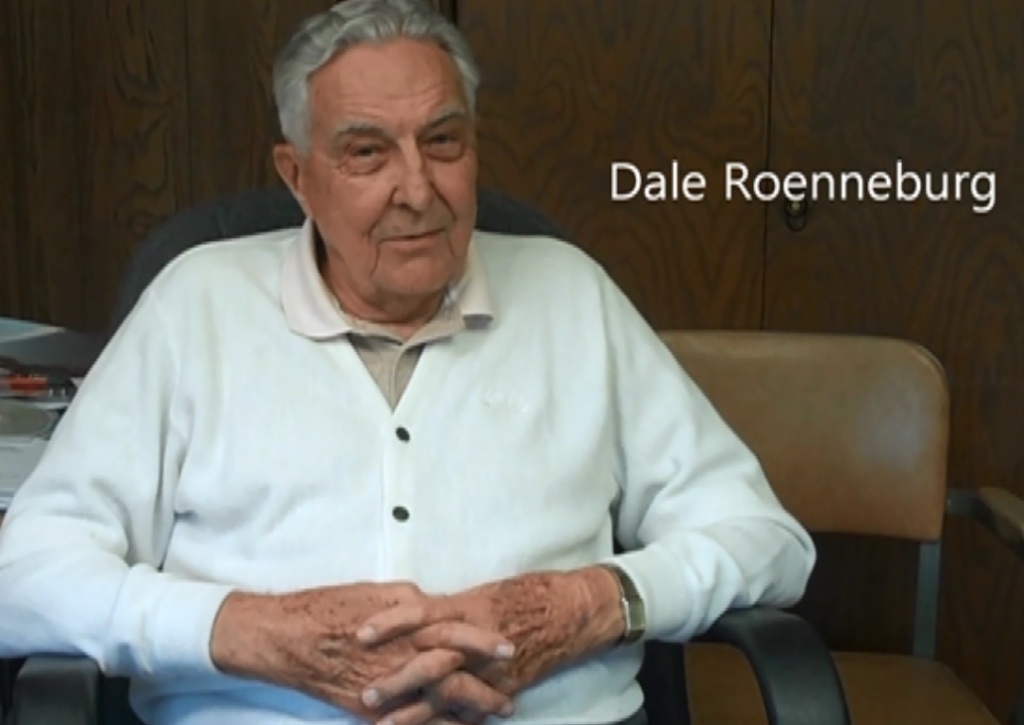 For an article I wrote published in the May 5, 2010, Free Press, I interviewed Dale E. Roenneburg, who was 87 at the time. He was among the 97 World War II veterans who flew from Madison, Wisconsin, on Saturday, April 17, 2010, to view the war memorials in Washington, D.C.
Roenneburg served in four wars during his 23 years in the United States Army: World War II, Korea, Vietnam, and the Cold War, which began in 1946 and ended in 1990 with the dismantling of the Berlin Wall. He began as a private and retired as a major. During World War II, he was in the 37th Ohio National Guard Division after Guadalcanal. In the Battle of Bougainville, he caught shrapnel two different times and lost five buddies; he was the only one living of the artillery crew. Of the nightmarish images and pain, he couldn't talk about them until about 2005.
Because his great granddaughter asked him to write what he did, he spent three years putting pictures and thoughts down and published them in a book for his family. A U.S. Army photographer who went into an invasion with Roenneburg gave him photos. Roenneburg remembers him as a short fellow, who went under the water a few times because of the pocketed ground beneath the water. Roenneburg rescued him a few times.
"When you go into an invasion, you just think to get in there as fast as you can and get behind something. In an invasion, the Army became the Marines. You are all GIs and you pray to God to help the next guy out, just as they will help you out."
He was a member of the American Legion, the Veterans of Foreign Wars, the Disabled American Vets, and American Vets.
The trip to Washington, D.C., was very special to him. I was honored to meet this man and thankful to be able to thank him personally for his service.
Do you have a family member or friend you would like to honor?
To read the other veterans' stories, please visit these blogs: https://michellekaderlywelsh.com/veterans-share-stories-part-2/ and https://michellekaderlywelsh.com/veterans-share-stories-part-1/ and https://michellekaderlywelsh.com/navy-experience-tattooed-on-soul/.
Photo by Kevin Lanceplaine on Unsplash.