A writing dream
A writing dream
Do you have a writing dream? How has the journey gone so far?
In elementary school, I devoured books and imagined myself as the heroine. The Little House series by Laura Ingalls Wilder stands out in my memories, but countless others influenced me too. During the fifth and sixth grades, my teachers introduced writing short stories from pictures they taped to the chalkboard and asked us to write, direct, and act out our screenplays.
My writing dream started young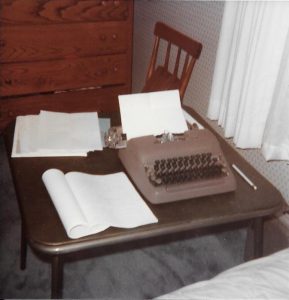 By fifteen, I dreamed of being an author, but my parents didn't think that being an author would pay the bills, so I chose journalism as my college major. During high school, I used to make monthly newsletters/news magazines for my maternal grandparents, and I worked at the local newspaper covering high school sports. I hand-wrote my novels in high school or typed them out on my mom's manual typewriter.
My dreams exhilarated me. I watched the television series Fame and traded their performing arts for the imagined writing life instead. After watching Romancing the Stone, my best friend promised to be my secretary. We believed. We never doubted the dream.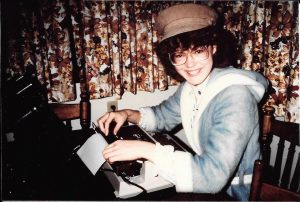 My high school English teacher believed in me and took me to a writing conference at a campus not far from home. I devoured each issue of Writer's Digest, marking it up, making plans, and submitting to contests. My mom sent out my submissions, and I collected my rejection slips. But already I knew rejection was part of the game. I continued on, unfazed.
I followed a plan
In college, I belonged to Sigma Delta Chi for my journalism major and the creative writing club for my fiction. I published in the school literary magazine and worked at the college newspaper. I met Maya Angelou for one of my articles, so that was cool. During the summers, I did freelance work for a publication and interned in a public relations position. Placing in some contests encouraged me forward. Professors and colleagues stoked the fires with words of praise. I published in other newspapers.
After college, I worked in public relations and marketing by day and read piles of craft books by night. I even subscribed to the Writer's Digest Book Club for a while. I submitted to more contests and even won a few. I have a picture of me and my newborn son with a traveling trophy for the Wisconsin Regional Writers Association.
Eventually, I left corporate life to be an assistant editor at the local weekly, freelancing with a bigger daily on the side. But then, my faith became more important and my priorities changed. Making a name for myself as a writer dimmed in comparison to sharing what God was doing in the lives of people I started to write about. I still love writing human interest features. My most difficult assignment was writing a story about a dead, homeless man with no family. I received a lot of mail about that article, and it impacted a lot of people, mostly me because I didn't know how I was going to pull it off, but I did. Interview by interview.
Plans change
But the years passed and I burned out of writing local news and features, so I retired from that to concentrate on my dream. You remember that dream from my youth? It still burned deep inside, and with a little of encouragement, I took off with it again. I wrote my first novel which is buried in a box in the closet now. It went through my critique group at the time. One of my best friends told me about the Write to Publish Conference in Wheaton, Illinois.
Times had been tough then. My husband just returned to work after a long lay-off. No way could I afford to go, but she gently pushed. "There are scholarships," she said. So, I applied, leaving it in God's hands and not believing I'd get one, but I did win a full scholarship. At that conference, I learned about all the stuff a writer need to do that I didn't know about: platform.
One late summer day, my son helped me create a website. The pressures of the experts said, "You need a website. And don't forget to make lots of friends on social media."
Where I am today
Blinded by my dream, I jumped right into it all, blogging, reviewing books, and creating profiles on different social media platforms. But seven years have gone by since then, and I'm no closer to that dream than I was when I was a bright-eyed kid. Sure, I've honed my skills, but I'm still nowhere near the author goal.
Attending conferences, reading craft books, making friends on social media, creating your own place in the internet world is all recommended and commendable. But if I had to do it over again, I would wait to announce to the world my dream and jump on the bandwagon with everyone else. I'd save my money and use my time more wisely. I'd avoid the pressures and stress of trying to measure up in the eyes of so many people and keep the joy instead.
Somewhere from then to here, the excitement and joy seeped out, leaving a big hunk of sadness, a grief over unrealized dreams. It feels like I missed the boat because I listened to all the advice of the more established people. What I should have done, and what I recommend now but am not sure quite how to do, is to just rest in God and who He made me to be, to write for the pure joy of writing. The goal should be to write your first drafts before doing any of this other stuff because the first draft still requires a lot of work.
My advice for those starting out
If you have a writing dream, I propose you write a couple novels before you even start sending them through critique, and then while they go through that process, build the platforms and write the blogs.
Along with the critique groups, invest in taking some courses, not just attending the conferences. I always put off taking the courses. When my firstborn was quite young, I took a Children's Writing Institute course, but then I let the worries of other finances end that. I wish I'd taken other courses and not just relied on craft books because courses involve actual homework that exercises the muscles. Sure, craft books do that to some extent, but no one really holds you accountable.
Critique partners hold a person accountable. They help improve your skills, but they don't always teach you about some elements like identifying the flaw and goals. Brainstorming partners benefit people like me. Maybe that would save some time, all the hours invested in a manuscript that just dies in the Word files because they lacked these critical components.
Apparently, I have written plenty of premises but lacked in a real plot. I wish I had discovered that in the beginning.
Of course, it isn't too late.
Rediscovering writing dream
What can a person do? Start with a clean slate. Concentrate on strengthening a weakness. Return to the drawing board. Rediscover the joy of creating. Pick yourself, wipe your tears, open a fresh file, and start again. Whether you succeed or not depends on God's plans for you. You might as well have fun with it during those initial few stages. And if He opens the doors, celebrate with those who never gave up on you, even when you gave up on yourself.
May the Lord bless you. Now, go forth and write–or whatever your dream is, not worrying about the rest until the proper time.
What dream of youth still lives in your heart?