Ophelia Starcluck imaginative, fun
Ophelia Starcluck imaginative, fun
Young readers will love Ophelia Starcluck Saves the Galaxy by Kristen Gwen. While written for kids 8-12, I think parents will enjoy reading the story with younger kids too.
About Ophelia Starcluck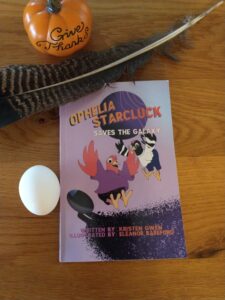 Set on a space ship filled with different types of birds, the story is filled with gentle humor and meaningful life applications. The main characters are Ophelia and Finn, young chickens, and Marduke Craven/Billy Smith, a weasel who wants to strike terror throughout the galaxy, and his business partner, Ernest Woodhouse, a weasel who aspires to be Santa Weasel on their home planet.
The chicks prepare to leave their spaceship to attend BAST, a prestigious bird academy, but plans go awry when Marduke and Ernest pump sleeping gas into the ship and take it over. Now the chicks, who are too short to get their heads in the gas and thus fall asleep, must outfox (or is that outweasel?) the weasels.
Themes of Ophelia Starcluck
There are two themes threaded through the story. The first is that people can be different yet still be friends. Ophelia believes that best friends must have everything in common. Her friend, Keira, has led her to this conclusion which causes her heartache. Keira believes that if others don't agree with her every whim, they can't be her friend. She changes her whims often. Ophelia applies this logic to her best friend, Finn, who then thinks he has to lie to keep her friendship. This causes some uncomfortable situations.
The second theme is having courage to stand up and do the right thing. Sometimes this means giving up something you love for the greater good.
Ophelia discovers that she and her enemy, Marduke, have something in common. Oh, boy, how can that happen between a chicken and a weasel? This leads the pairs to a challenge. The winning team gets the key to the ship.
What I love about this novel
I love the cute chicks fighting to save the ship, but I'm also quite fond of the confused weasel, Ernest. He has a good heart and has some humorous comments. (I hope he stars in some future Christmas book.)
Kristen Gwen's fun imagination takes you on an unforgettable ride in space. I think kids will enjoy reading this story over and over. In fact, I know some youngsters who like to reenact stories, and I see possibilities of this occurring with this book. Ophelia might create her own Captain Jillian craze. Captain Jillian, the hero of her favorite television program, inspires some of the action in this story. I don't want to say too much and spoil anything. I advise you to find a copy soon and cozy up with your young readers to enjoy the story. For an extra special time, perhaps your young person will read the story to you.
Author Kristen Gwen promises more Ophelia Starcluck stories soon. Follow her on Amazon or sign up for her newsletter to learn when the others release.