Dead Air: pain distorts truth
Dead Air: pain distorts truth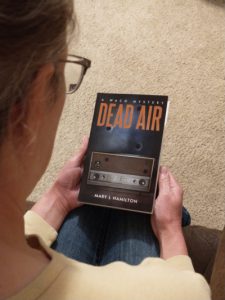 Dead Air, a Waco Mystery by Mary L. Hamilton, addresses lies people believe because of clouded pain from past experiences. These erected walls cement bricks of pride and unforgiveness that lead to tragedies.
Frustrated that her unemployed husband won't accept less than his dream job, Kit Squires gives him an ultimatum. While listening to the radio station he used to deejay on, she hears gunshots and his voice. She rushes to the station to be stopped by officers. Soon her husband Jeff becomes a prime suspect in a murder investigation.
Readers can follow the clues
Kit and Jeff's son, Bryce, a senior in high school, and his sister, Maddie, refuse to believe their father murdered anyone. Hints throughout the story show the reader Jeff's integrity, yet Kit heard his voice on the radio. She wrestles with what she knows about Jeff and what she heard.
Dead Air takes lies Kit believes and blinds her to the truth. Somehow the wounds of her childhood cause her to believe the worst in someone she should not question—her husband. Mary Hamilton takes a time of upheaval in their life and casts doubt in Kit's mind despite the known character traits. One might wonder how can this happen, but it does when people are under a lot of stress and let the fears overtake their thinking.
Well-thought-out clues help the sleuth reader dig into the case alongside the police and Bryce. Eventually, the suspense comes with Kit trying to figure out who the murderer is.
Why I liked Dead Air
The danger keeps the reader on the edge of her seat. We want to know why. We want to know how.
In this gripping and well-written story, the fear is palpable. I got so caught up in this story that I carried the story with me long after I closed the book, worrying about the characters. In some sections, I felt moved to tears, so the author is commended for her character development as well as her plot. Amazing details put you right into the story.
I appreciate the lessons Kit learns about her expectations. She learns to put herself into someone else's shoes and realizes the feelings associated with the similar challenges. Kit humbles herself and takes steps at reconciliation and forgiveness, so healing can begin with the person who caused her trust to falter. The redemption of Jeff, an admirable character, is gratifying.
I highly recommend this excellent novel. I've read a lot of great novels this year, and this one is among the best I've read. While the intended audience is for adults who love mysteries, I believe older teens will love it too, especially since one of the POV characters is a teen.
If you love figuring out murder mysteries, please find yourself a copy and let me know your thoughts too.
Other novels I've read by Mary L. Hamilton include Pendant, Hear No Evil, Speak No Evil, and See No Evil; the last three are YA. I enjoyed all these, and her latest, Dead Air, is best of all. Well done, Mary!
What are you reading? What's your favorite genre?