Four-leaf clovers mean living in moment
Four-leaf clovers mean living in moment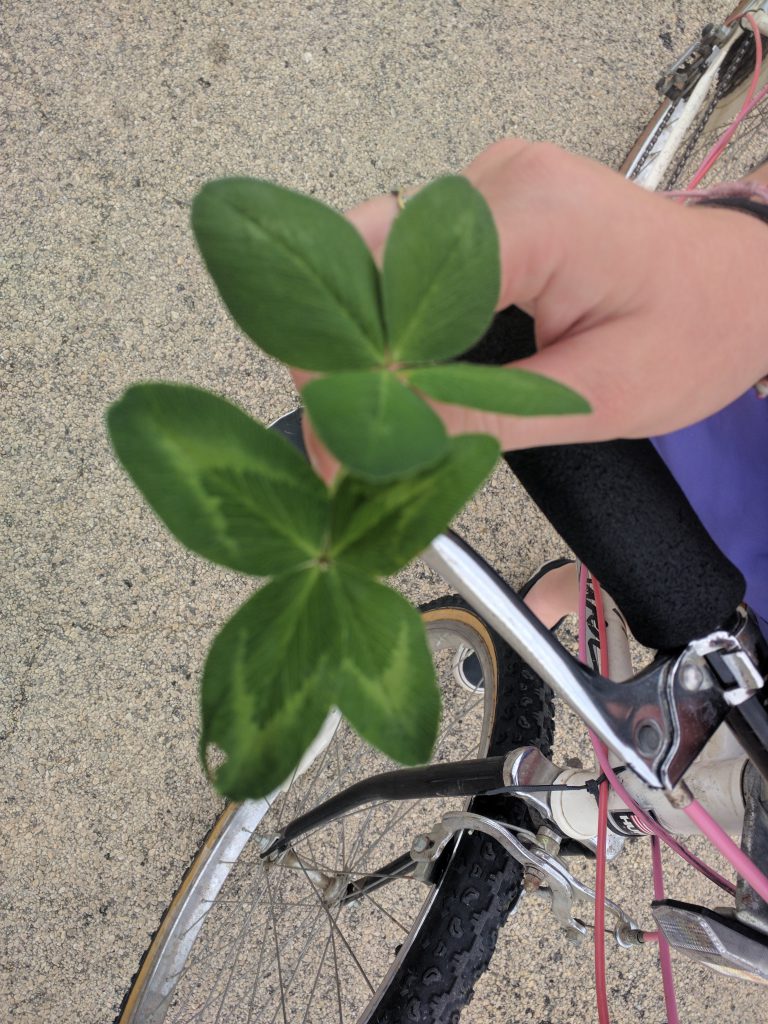 One morning on my walk, I happened to glance along the roadside and glimpsed a four-leaf clover. My mom and sister love looking for the allusive four-leaf clovers and pressing them in books.
I walk at a fast clip so to notice a four-leaf clover while walking is incredible to me. Whenever I join my mom and sister in search of them, it is rare to find one as we visit and look. But this day when I saw one, I backtracked and paused to double check. Yep. There it was. A four-leaf clover. A big one at that. And nestled not far from it was another, so I found two rather large four-leaf clovers that day within seconds.
My daughter biked alongside me for company and witnessed my finds. Of course, I had to let my mom and sister know! I knew they'd be happy.
We aren't superstitious and don't believe that they bring us good luck. It's just the joy of the hunt. Plus sitting in the grass or moseying along in a field or along a back road slows the frantic pace of our lives.
When my sister visits and asks to search the clovers, I know it's an invitation to rest and live in the moment. Maybe it's our personalities that make us feel we must be completing some important work each moment of the day, but God doesn't ask us to work ourselves into frenzies about anything.
In fact, He asks us to come and sit at His feet and spend time with Him. Give Him our burdens. Seek Him and rest. It sounds wonderful.
I bet Jesus is pleased when He sees us stop our rushing and live in the moment. It's in the moment we pause enough to notice the beauty around us, to listen, to hear sounds of nature, to embrace a loved one, to laugh.
Oh, to laugh. To feel joy over simple things. Those really are gifts. May we each embrace them more.
Pause today, and share with us about something you discovered this week, won't you?
God bless you.
To read more on this topic, click HERE to read another blog.