Ideas to save money on wedding
Ideas to save money on wedding
My son married last fall, and my daughter married this spring. Weddings elicit a range of emotions which include excitement and joy, along with feeling overwhelmed and stressed. How to pay for a wedding is among the top concerns. One wants a beautiful and memorable day honoring the nuptials and couple, but going into huge debt isn't advisable.
Weddings can be expensive. The prices charged can stun a parent. So, today, I will share with you some ideas to save money on a wedding.
Plan ahead, borrow or share
Of course, an important way to save money is to plan ahead and start early so you can shop around for deals. The lady making flowers for my daughter's wedding found flowers for the arrangements on sale at Hobby Lobby. Her affordable and pretty materials pleased us.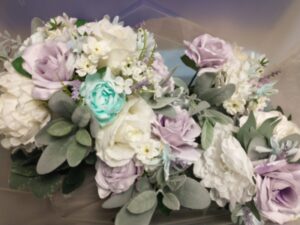 Originally, we were going to have real flowers, but a family member for the groom was allergic. For my sister's wedding, family cut lilacs for her table arrangements. Not only is this beautiful, but the fragrance is wonderful. A friend used Queen's Anne's Lace from alongside the country roads at her daughter's wedding for table decorations—simple but elegant in a white vase.
To save money for fresh bouquets, buy cut flowers at the floral shop or grocery the day of the wedding. You could pick wildflowers too.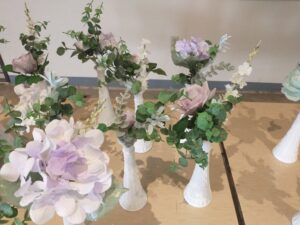 Borrow some items. Friends or friends of friends may have things you can borrow. We borrowed small picture frames for the table numbers, the aisle runner, and vases for the flowers. We could have borrowed the cloth tablecloths from my son's wedding, except that their cloths were a burlap brown, and my daughter wanted white, so we bought white tablecloths from a dollar store.
Dishes and food
While we purchased paper plates and plastic forks for the cake and hors d'oeuvres, we used the church dishes for the meal. My cousin's daughter purchased China at a thrift store like Goodwill or St. Vincent's de Paul. She had a small wedding, and a grandma willing to wash lots of dishes. If you like having real dishes and are having a small group, you could even shop rummage sales for pretty sets.
Compare prices and shop around for food. Since I broke my right leg and left foot, I depended on good friends to help me with my shopping. They purchased items at different stores to get the best prices. This is still a huge line item.
We attended a wedding once where the food was potluck. That worked out wonderfully for them. Another family we know had a cookout. For my daughter's wedding, ladies from our church blessed us with their catering services.
Someone talented in cake baking and decorating blessed my daughter with her wedding cake. This smaller, fancy cake was supplemented by other cakes made by a friend, who volunteered to help. My son and his wife purchased a small cake and supplemented with cookies and cupcakes from a bakery recommended by my sister.
An important way to save money is limit your guest list.
Wedding venues and photographers
Venues vary too. My daughter wed at our church. My cousin's daughter chose a park. A friend's daughter married in their back yard. These venues aren't as expensive as fancier venues like country clubs, barns, community centers, etc.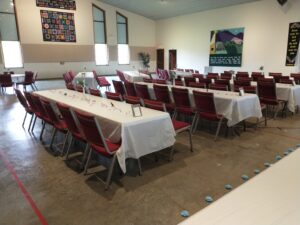 For all aspects, negotiate. The photography fee can be steep. We didn't want to spend as much as our photographer was asking for her wedding package, so we negotiated to having her for fewer hours and paring down our photo list. These professionals are artists and need to earn a living, but some are willing to work with you when you respect their work and take time to explain your thoughts. If you have a photographer friend or a friend who takes good pictures, you might hire that person. That's what others we know have done. My cousin's daughter had an album made through Shutterfly or Snapfish. It all depends on your budget and what you envision.
Dresses for the wedding
I know a young bride who found her wedding dress at an antique shop for $5 and worked with a seamstress to make it her one-of-a-kind dress. My daughter found her $1,200 gown at a shop that had discontinued dresses for less, so got her gown and veil for under $400. Look at the sales racks. You could find a treasure there.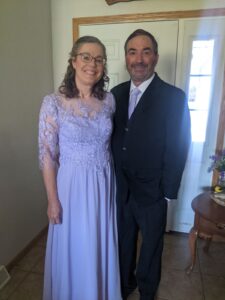 The most stressful part of my son's wedding was finding my formal gown. First, the dresses were too expensive for my budget. Then, I ran into troubles finding my size. I got quite stressed and frustrated. Eventually, my daughters accompanied me to a chain bridal store with more affordable prices, and I found my dress.
After my son's wedding, it was time to find another long dress for my daughter's wedding. I approached shopping with trepidation. The bridesmaids found their dresses right away, while I visited a couple places, just not finding what I sought. I ended up purchasing this dress from an online retailer. Still, finding the right size caused me stress. Each daughter took different measurements which sent me into a panic. I called upon my mother for assistance. Mom measured, and I ended up ordering a larger size—not because I had gained weight, but because women's fashions are so inconsistent and aggravating that a person cannot ever just order the same size. I digress.
Wedding invitations
To save money, make your own invitations. My daughter used Canva, but a few of my nieces used ideas on Pinterest and created lovely invitations. We worked with our local print shop for the job.
Details swirl around us, and each of us is unique, so be creative. Find what expresses you. It doesn't have to cost a lot.
I hope these ideas help you save. A wedding is for a day, a marriage a lifetime, so don't start your new life out in huge debt! Enjoy your special day!
What other ways do you know to save money for a wedding? Please share.