Offenses, unforgiveness equal trouble
Offenses, unforgiveness equal trouble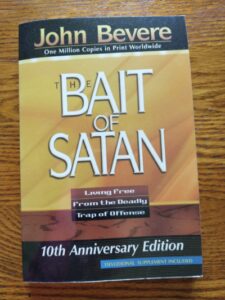 I have an ugly secret to share. By exposing it, I hope to kill it and move on, and save you from the same mistake. Deep down, I knew I harbored unforgiveness, but I felt it was righteous indignation over a terrible wrong, so I nursed it and fed it. And it grew into a hard heart full of the ugliness of hurt, anger, outrage, jealousy, resentment, bitterness, hatred, strife, and stuff like that. The longer I dwelled on the offenses, the deeper I dug the trenches, and the hotter I burned.
It's ironic then that I learned that harboring offenses, not only can manifest into illnesses and depression, but send us straight to hell if we don't work through the mess and come out with cleaned, purified hearts.
Book discusses spiritual consequences of offenses
Hearing God by Peter Lord (discussed in July) led me to The Bait of Satan by John Bevere because I cannot hear God if I harbor unforgiveness. Disobedience and a heart full of ugliness never please God.
Offense is the bait of Satan that the book The Bait of Satan works to remove from our lives. Bevere covers different offenses and how to work through them. The struggle is real and takes hard work. It's like exercise; the longer we work at staying free of offense, the stronger we get and the easier it becomes.
When we blame others and defend our positions, when we let pride rise up rather than just accept the fallibilities of people and forgive them and move on, we erect walls and hurt ourselves. Often the offender doesn't even know what she did or doesn't care.
We get offended when people don't accept us. We feel like failures when love and kindness aren't returned to us. Bevere says we must let go of our expectations. We should love for loving's sake—because that is what Jesus asks of us. Loving others is hard, especially if they lie and betray us, but God forgave us for all our sins, and we are asked to do the same.
Peace comes by letting God deal with the offender
With God's help, we can forgive. God gives people the authority to serve, and we can't serve if we're carrying around heavy grudges.
Only God holds our destiny, not any person and not the devil. Each of us makes a choice, and when we choose, we choose whether we will do God's will (forgive) or Satan's desire (hang onto the offense). God gives us the choice, and often we make the wrong choice which leads to our eternal death. Scary stuff!
Bevere said that people think that if they can only show their loyalty and value they will be accepted, but sadly, the more they try, the more rejected they feel. In my life, I see this is true. It's a terrible circular prison trying to please people and to avenge ourselves when we feel rejected. Freedom in letting God be the judge and avenge us brings us the peace and joy we desire. That's what I want.
Still, God tests us with obedience, and if you're like me, I fail these tests often.
Rather than run from difficulties, we need to face them, call the person out immediately, and get the issue resolved quickly.
Natural tendencies test us
When we are offended, we're not in the will of God. When we're not in the will of God, then we cannot be a blessing or a help to anyone. Our relationships suffer.
If we don't apply what the Lord says in the Bible, we never move on and mature. We get stuck.
Bevere said, "It is the path of humility and self-denial that leads to healing and spiritual maturity. It is the decision to make another's well-being more important than our own, even when that person has brought great sorrow. Pride cannot travel this path, but only those who desire peace at the risk of rejection. It is a trail that leads to humiliation and abasement. It is the road that leads to life."
Everything about that goes against our natural tendencies.
That's why it says the road is narrow that leads to life. So many people refuse to let go of their offenses so don't get forgiven. If we don't forgive, we don't get forgiven, which leads us not into eternity with God, but eternity without God. Offenses lead us into hell. That's scary.
"Be sure that you build your life on God's revealed Word, not what others say. Keep seeking the Lord and listening to your heart. Don't do or say things just because everyone else does. Seek Him and stand on what is illuminated in your heart!"
We can trust God. "He always looks out for what He knows is in our best interest. What may look like a disappointment to us will always turn out for our good if we do not lose faith. God is love; there is no selfishness or evil in Him. It is Satan who desires to destroy us."
Kill ugly root with forgiveness
The main element of obedience is believing. If we're fearful, we aren't trusting or being obedient so we aren't believing.
Forgiveness is like the cancellation of a debt, Bevere said. Forgive as God does, without limits.
So, resist the devil, friends (James 4:7). Deal with unforgiveness now so you don't have to pay a debt you cannot pay.
I tended my bitterness root instead of killing it with repentance and forgiveness. If we don't let it go, it will corrupt and defile us.
I've taken the first step by admitting I've been hurt. Now, I must continue to reject angry thoughts and pray for those who hurt me. I must fight my critical spirit and confess my wrong attitude. When I reconcile with the offender, then forgiveness and healing result.
Frustration doesn't promote peace. Our goal is healing which comes through repentance and obedience to God, which brings the peace and joy we seek.
Book recommended
I don't want to miss heaven because I refused to relinquish an offense. I don't want you to miss heaven either. If what I've mentioned here today piques your interest, please find a copy of The Bait of Satan and begin the healing process.
I'm praying for you and cheering you on. I hope you'll do the same for me because while the choice has been made, the journey ahead won't be easy. Thankfully, we have Jesus interceding on our behalf!
Please share a story of reconciliation you've made to encourage us to overcome and to help us refuse the bait.