Menus save money
Menus save money
One way to save money is to plan your meal menus for the week or month.
Planning your menus helps you determine your grocery list. While shopping, stick to your list and don't add on to it. (By the way, don't shop when you're hungry!)
Weekly vs monthly menu plans
If I plan menus for the month, I find I plan a variety, and we seldom eat the same thing twice that month. If you like the monthly plan, you can just repeat it every month and only plan once, if you like. Of course, foods change per season, so that's why mine differs. I depend on my garden in certain months.
Most of the time, however, I plan by week because some weeks just have more going on than others. How busy the schedule is reflects on how much preparation time I have that day which affects the choice of menu.
Pick a day to schedule your menus and look at the week (or month) ahead. I also think about what I have on hand already, such as meat or garden vegetables.
Buy direct, watch for sales
Eliminating some of the middlemen saves money too. We like to purchase our beef by the quarter or half directly from the butcher who buys stock off the farm. This supports my local farmer, my local business, and I know what I'm getting. Because I am health-conscience, I ask for my beef to be lean. You can buy directly from the farmer, as well, which cuts out another middleman. We've done that as well. I purchase hams and turkeys when they are on sale seasonally and freeze the extra also.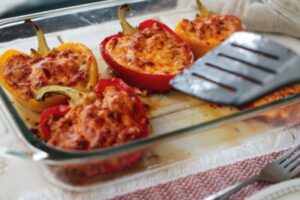 Look at the sales flyers that come in your mailbox each week. What foods are on sale? What foods are in abundance at the farm stands or farmer's markets? Jot down your options. Find your recipes. Planning your menus by what is in season or what is on sale trims the bill also. Make your grocery list. Then decide which day you'll make what. Voila! Now when it's time to prepare the meal, you know exactly what's on the menu, and you have all the ingredients. This not only saves money, it saves time.
Remember to rotate your stock
Be sure to keep updated on what you have in the refrigerator and freezer so that foods don't accidentally get forgotten and wasted.
I rotate items on the shelves when I put away groceries so that the older items are moved toward the front.
When I broke my leg and my foot, people brought us food. My weekly menus flew out the window, and soon we had food that needed to be eaten before it got old. Since my husband and daughter are familiar with my system, it all worked out after things reverted back to providing for ourselves.
I know when I don't plan ahead, I tend to just buy more and figure it out later which makes for a more expensive grocery bill. Everything adds up fast! How do you save money on your grocery bill?
Here are more tips on saving money on your grocery bill.