Money Saving Food Tips
Money Saving Food Tips
Groceries are getting expensive! Here are some money saving food tips to help stretch your dollars.
Common ways for saving money on food
Don't eat out except as a rare treat. Eating out is a fast way to spend money. It's nice once in a while, but don't make it a frequent habit. Somehow these meals are loaded with extra calories, extra salt that makes people thirsty, and don't usually taste as yummy as home-cooked meals, so besides costing a lot, they aren't as healthful.
Pack your own lunch for work and school. We often eat our leftovers for lunch. One meal may be stretched to eat at another family meal later too. If a recipe is large, put leftovers into freezer containers and freeze to eat another week.
Grow a garden. You'll have plenty of food for yourself and some to share or sell.
Make your meals from scratch rather than buying premade or processed food. It's not hard. You can also find recipes for quick, easy meals, so time isn't a concern.
Small changes make a difference
Watch for deals and use coupons. Buy generic brands and in-season produce. Shop sales.
Buy in bulk and freeze in quantities you use or store in a cool place for future use. Be sure to put newer products behind older products, so you use them before expiration dates.
Add more water to your fruit concentrates. When my first child started drinking juice, the pediatrician suggested adding more water than directed because juice is so sweet. It's been over 30 years since I got that advice, but when I make juice, I still do this. You may want to experiment to find what suits your taste. It adds a few more servings. For your health, stick to smaller servings of juice, and the container will last longer, as well.
Drink water instead of pop, fruit juices, etc. Water is healthier, and if you have good water, you can drink it from the tap.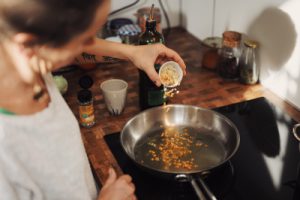 Saving money with food recipes
Make thinner pie crusts. By rolling my pie crusts thinner, I can make more pies or freeze the extra crusts for later. Here is my homemade pie recipe that makes two or more pies with top and bottom crusts:
Pie crust recipe
3 cups flour
1 cup vegetable shortening
¼ cup butter
1 egg white
1 Tbsp. cider vinegar
Ice water
Mix ¼ cup butter with 1 cup of flour to fine crumbs. Add the other 2 cups of flour and 1 cup vegetable shortening. Cut this into crumb stage. Make a shallow hole in center of the flour mixture. In a measuring cup, add the egg white, 1 Tbsp. cider vinegar, and enough ice water to equal ½ cup of fluid. Stir quickly to mix, then chill in refrigerator for half an hour before rolling out pie crusts. Sometimes I have to add a little more ice water if it is too dry. When rolling out crust, I dust counter with flour and dust dough with flour so the rolling pin doesn't stick to it and cause a bunch of frustration. This recipe was given to me from my friend Carol N.
Pizza recipe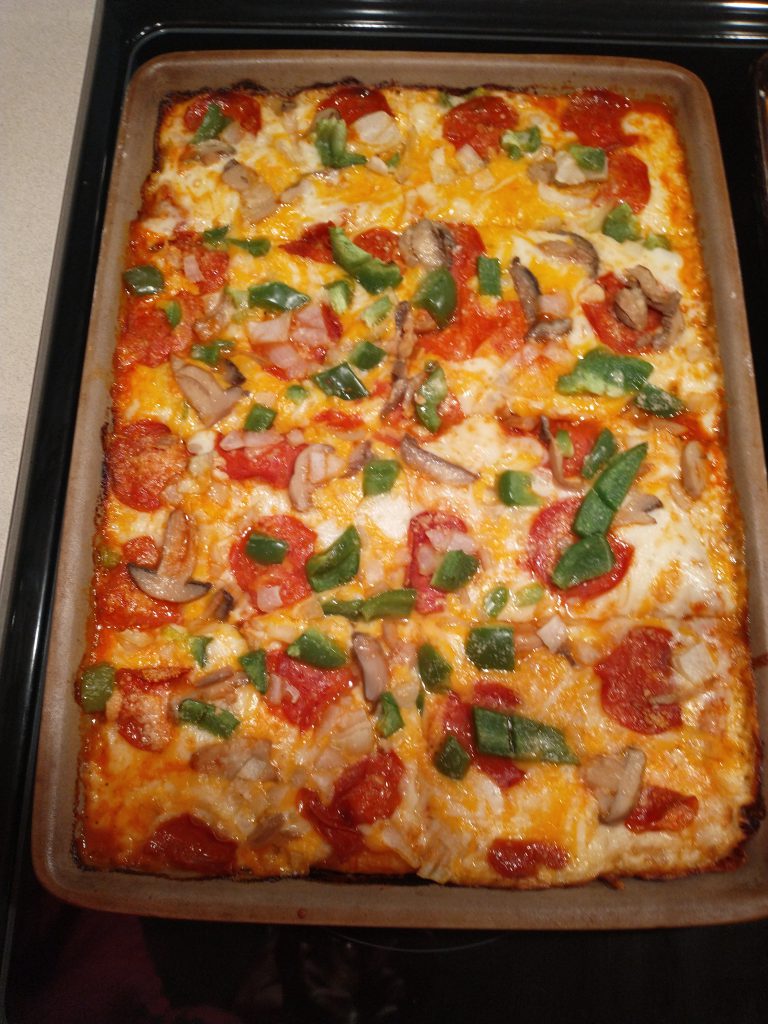 Instead of buying pizza, make your own pizza!
Here is my recipe:
2 packages yeast (or 3 tsp. if you buy your yeast in a jar)
A dash of salt
1 Tbsp. sugar
1 ½ cups WARM water (not hot or cold, luke warm. If the water is too hot, it will kill the yeast.)
Stir this together and let it set for five minutes for the yeast to do its work.
Then mix in 2 ½ Tbsp. olive oil
3 ¾ cups flour (1 /3/4 white and 2 cups whole wheat if you want a healthier crust)
Stir and let rise for 20 minutes.
Spread dough over two cookie pans. Put on tomato sauce, shredded mozzarella and other toppings that you like. Bake at 425 degrees for about 15 minutes or until cheese is melted and light brown and bubbly. This recipe was handed down to me from my mom.
Fajita seasoning
Make your own taco seasoning or basting/marinade sauce.
I once needed fajita seasoning but didn't have it. I had all the ingredients so I made my own. This is the recipe I used:
2 tsp. chili powder
1 tsp. paprika
½ tsp. cumin
½ tsp. garlic powder,
½ tsp. onion powder.
1 tsp. oregano
1 tsp. salt
1 tsp. sugar
¼ tsp. cayenne pepper
Use 2 Tbsp. of this per recipe.
Taco seasoning
I make my own taco seasoning also. Here is the recipe:
1 ½ tsp. cumin
1 Tbsp. chili powder
1 tsp. black pepper
1 tsp. salt
½ tsp. paprika
¼ tsp. crushed red pepper flakes
¼ tsp. oregano
¼ tsp. garlic powder
¼ tsp. onion powder
Marinade
This is a marinade sauce I use with chicken:
¾ c. brown sugar
4 T. ketchup
½ c. cider vinegar
1 tsp. soy sauce
1 tsp. garlic salt
Egg Substitute
Don't have an egg for your recipe? Use this egg substitute.  When I didn't have an egg, I asked my Google dot, who told me to use 1 teaspoon baking soda and 1 Tablespoon vinegar. I did this for a quick bread, and we didn't notice any difference. There are other ways to substitute eggs in a recipe including using a banana, applesauce, mayonnaise, etc. Here is one link for more ideas. With the shocking prices of eggs, you might find these helpful in your baking so you can save your eggs for breakfast.
I hope these ideas will help you stretch your food dollar.
For other ways to save money, read more of my tips in this blog.
What other tips do you use for saving money on food bills?
Photo by Conscious Design on Unsplash.