Tinsel in a Tangle tackles topic of self worth
Tinsel in a Tangle tackles topic of self worth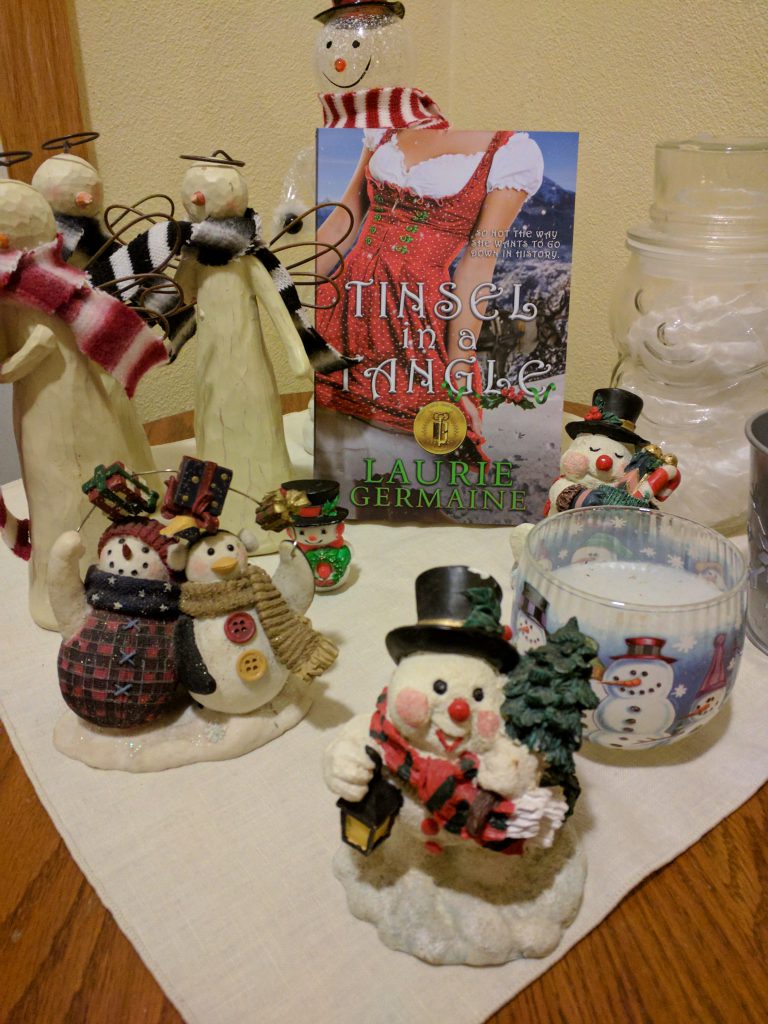 I loved the romantic, Christmas, YA, fantasy, Tinsel in a Tangle by Laurie Germaine. Why talk about a Christmas novel now? Well, while the story is set in Santa's village with Christmas coming fast, the overall story is about elves who are jealous of a tall elf, Tinsel. If you've ever been ostracized, then you'll understand Tinsel's pain. These hurts happen all year long. That's why it fits to write about it now. The story applies to many who feel unworthy, which is a tragedy that occurs often, despite the season.
Looking at Tinsel in a Tangle
Tinsel's repeated blunders cause the other elves to question her purpose and worth, causing Tinsel's confidence to plummet. Even Santa's grandson picks on Tinsel because he seeks their approval. Poor Santa! What a mess he has on his hands, and he doesn't even realize it until Christmas is threatened. Everyone, it seems, blames poor Tinsel.
I laughed in parts, and felt so sad in others. If you have ever wrestled with feeling that you don't belong or tried to gain approval from a tough crowd, you will relate to Tinsel. She continues to seek her purpose and talent though bumbling messes threaten to wreck Christmas for all Santa-believers and break her heart in the process.
I admire Tinsel's determination and optimism and persistence. She helps those who hurt her. You'll have to read the book to learn how the truth is discovered and how Tinsel saves Christmas. That's right—justice prevails! It is a wonderful tale.
Each of us brings value, worth to world
If you've ever been beaten down like Tinsel, you might feel real grief in certain scenes like I did. Joy comes though. Work to fight through the hurt and seek God's help to forgive others, remain true to ourselves, and find joy because each of us brings value, immense worth to this world despite what some jealous bully says.
Don't let the bullies win, my friend. Let your beautiful self shine. Be like Tinsel. Her name reminds you of shiny, glittery pieces hung on a twinkling-lighted Christmas tree full of reflective balls. Reflect the real you. Bring a little Christmas joy into today; read the book.
We don't need to believe in Santa, but we do need to believe in ourselves. When we neglect to believe in ourselves, we plunge into dark sadness. Let's not go there. Don't give up. Hang in there. Be bold and courageous. God promises His plans for you will be good. Remember, don't listen to the bullies. They lie.
How do you counteract bullies?
Book recommendation: Tinsel in a Tangle by Laurie Germaine.
Announcements
Yesterday, I posted a Storyteller Squad blog. Check it out if you seek tips for building your writing platform.
Burton Cole, a favorite author in my family, has a Zoom speaking engagement on March 4 at 7 p.m. EST, you and your children might enjoy. You will learn about his great books for kids 8-12 years old and be able to ask him questions. For more information, visit here. My family loves his humorous children's novels. You can refer back to this blog for a complete review on three of his books.


If you enjoy my blogs, please share them. Subscribe to receive them each week in your email. Thanks!