Unbetrothed: One girl's search for significance
Unbetrothed: One girl's search for significance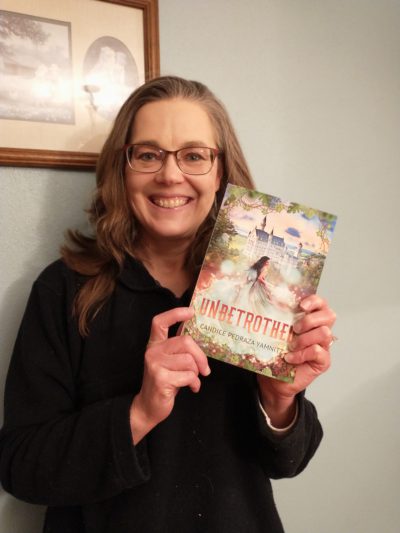 Candice Yamnitz, a talented storyteller, includes romance and sword-fighting danger in her debut young adult fantasy novel, Unbetrothed. Beatriz, a 17-year-old princess, embarks on a dangerous quest with her lady's maid, Laude, whom she doesn't respect much at the beginning, but whom she loves like a sister by the end. Beatriz's faults include being self-absorbed and proud, but her insecurities play into this because she doesn't have a magical gift like the others in her kingdom. She questions her place and worth. What she thinks she wants and desires lead her into all sorts of trouble, but the discovery of what she truly needs keeps the reader turning the pages. Beatriz and Laude find themselves in quite the unexpected adventure, much to the delight of the reader.
This clean read includes sweet, pure, and innocent love attractions as she seeks for her whyzer and the gift she hopes will change her life. Her life is indeed changed, but not in the way she anticipates—only better!
Beatriz finds that true friends and enemies lurk everywhere, and one must stay alert to decipher and discern which is which. I love how Beatriz discovers her true strength and value, and I can't wait for you to read this novel and embrace what we all can be reminded about of our true worth.
Favorite quotes from Unbetrothed
I wanted to share some of my favorite lines in the novel with you here:
Mama said, "You're not a sum of achievements. What would that say abut all those who are not born with the gifting mark? Do they not have value?" (Beatriz feels that she must marry to be useful. Sometimes we fall for that lie too. I appreciate Yamnitz's illustrating through the story that what we achieve isn't what brings us value. It's how we love others.)
Mama also said, "My whyzer honed my gift, but I've spent my days as queen in the words of the Ancient One. Because of this, I know you are meant to do something great. But the way you are right now, I'm not sure receiving your gift would satisfy your longing." (Beatriz focuses so much on receiving a gift that she doesn't see the gifts she already holds. Isn't that true of us too? Sometimes our focus gets skewed and we spend a lot of time chasing the wrong thing. Mama points her to the One who can help. We need God to show us the way, open our eyes and ears and hearts to the purposes He has planned for us too.)
Beatriz feels she can pretend to be someone else while she is traveling with the soldiers, but our real selves always seep out and the truth revealed.
Good reminders for all ages
Uncle Uly said, "Yes, I live here, but I'm not alone. You, my dear, think you need the gift and that people need to see you as some grand princess. Enough. Let yourself be at peace. You need nothing special to form a betrothal. You don't need this gift to earn people's favor." (We all need to spend less time seeking the approval of people. Eliminating that stressor would certainly bring about more peace in our lives!)
Uncle Uly also said, "Regardless, your father gives you a choice. Not every young lady can say that. As for favor, consider others before yourself. It really is simple, but not easy." (Very true words, indeed!)
Mama also said, "It's easy learning to destroy, but not to put back together . . ." (How very true. It's easy to hurt people and kill dreams, make people feel less than. It's easy to spew hate in a divisive world. We are called to be more, to be better. Stories help show us how. Isn't that why we love seeing good overcome evil so much?)
A final quote from Mama: "It turns out he wanted to show me what it meant to acknowledge the Ancient One." (Many hope to acknowledge God in how we live. Beatriz's mom shares much wisdom, but Beatriz and Laude are far from the palace in this story. Like each of us, they must find their own way, stumbling and fighting and overcoming.)
I also like that whyzers offer gifts for the good of society.
Novel recommended for teen readers
From the first page of this YA story, I wanted to know if this proud princess would get the desires of her heart. This is a beautifully written and gripping tale of one girl's search for significance. Beatriz thinks obtaining a gift will bring her worth and purpose, but the adventure she embarks on delivers her much more than she imagines.
Being self-absorbed, Beatriz misses some of the treasures in her life right before her eyes and overlooks some real dangers. This is a story of finding real friends and discovering that our value doesn't come from something we get but rather from something we give.
Beatriz discovers her true strength and value. Laude is the kind of loyal friend we all desire. And Zichri is another character readers will love.
I highly recommend this fantasy novel, Unbetrothed. This moving tale, sprinkled with sweet romance is a must read for 2022!