Abundant provision may overwhelm
Abundant provision may overwhelm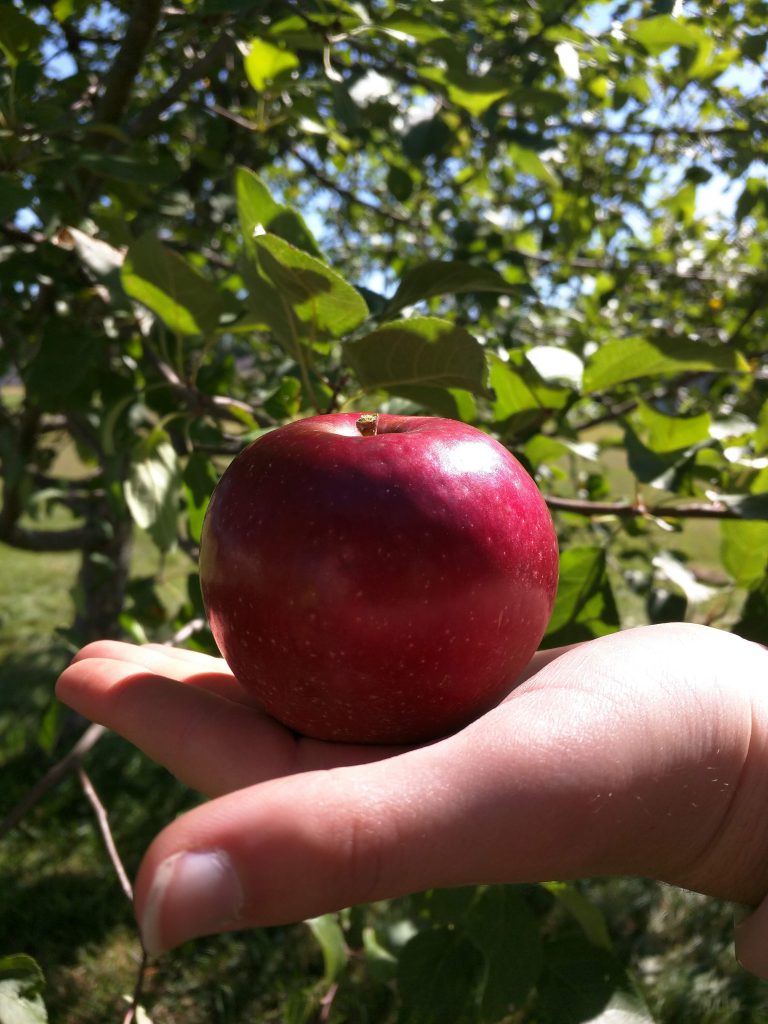 Have you ever felt overwhelmed by the Lord's blessings of abundant provision?
I have. It often happens at the height of gardening season when I'm picking buckets of beans or when I survey my harvest of potatoes and carrots. I wonder how will we eat all this before it spoils? How can I store this?
This year, we had lots of eggplants and tomatoes and zucchinis. I begged neighbors and adult children to please take some. Our pear trees and apple trees provided an abundant harvest this year, as well. I can make applesauce and freeze apples for future pies and crisps and other baked goods, but pears—well, I don't can so they need to be eaten. I did freeze some for future pear bread, but there is only so much bread a person can and should eat. My mother-in-law let us borrow her small refrigerator to store apples. We'll be eating apples awhile, even after sharing some. My neighbors might start hiding when they seem me leave the house with a bucket. Alas, we will just eat what we can.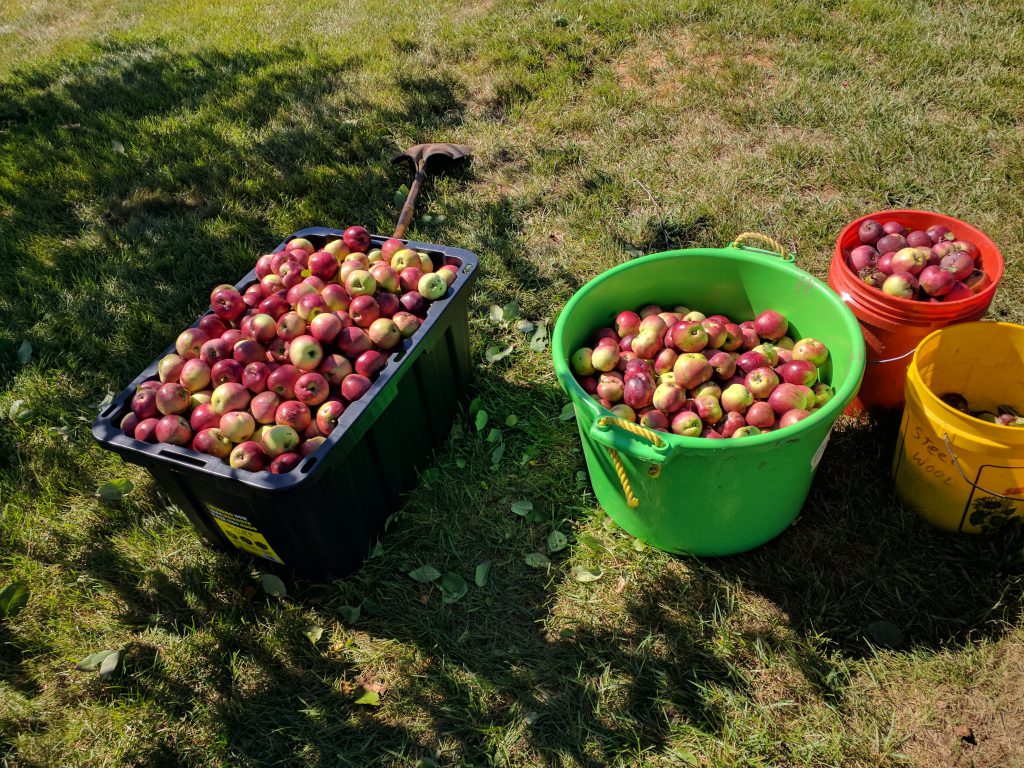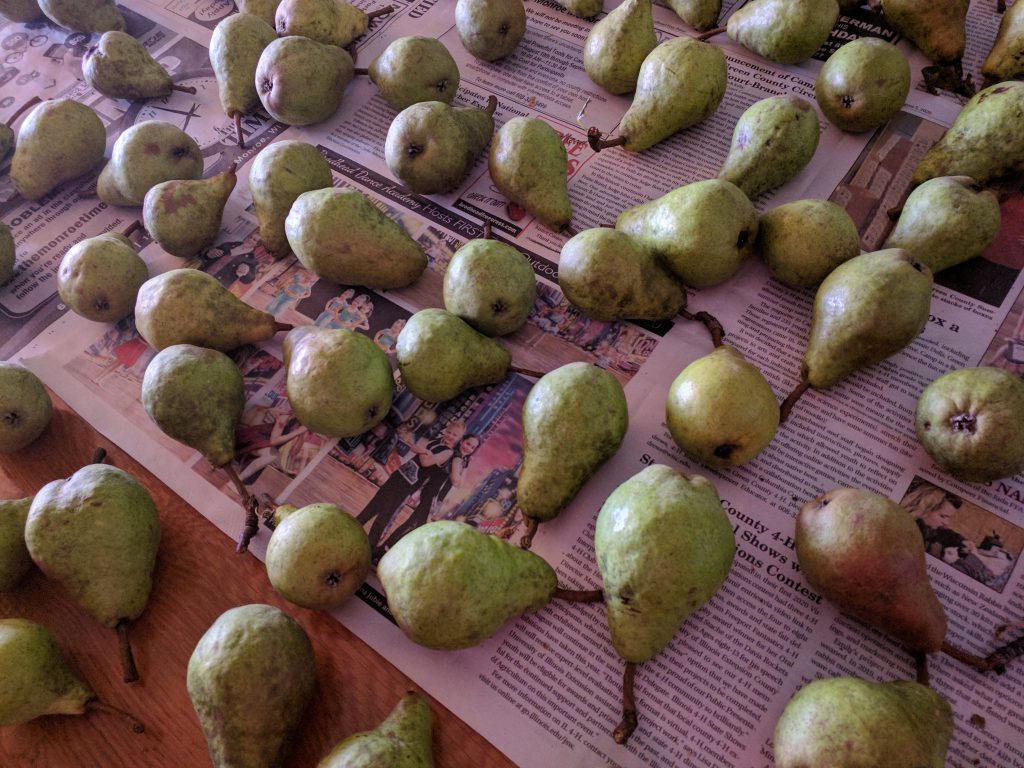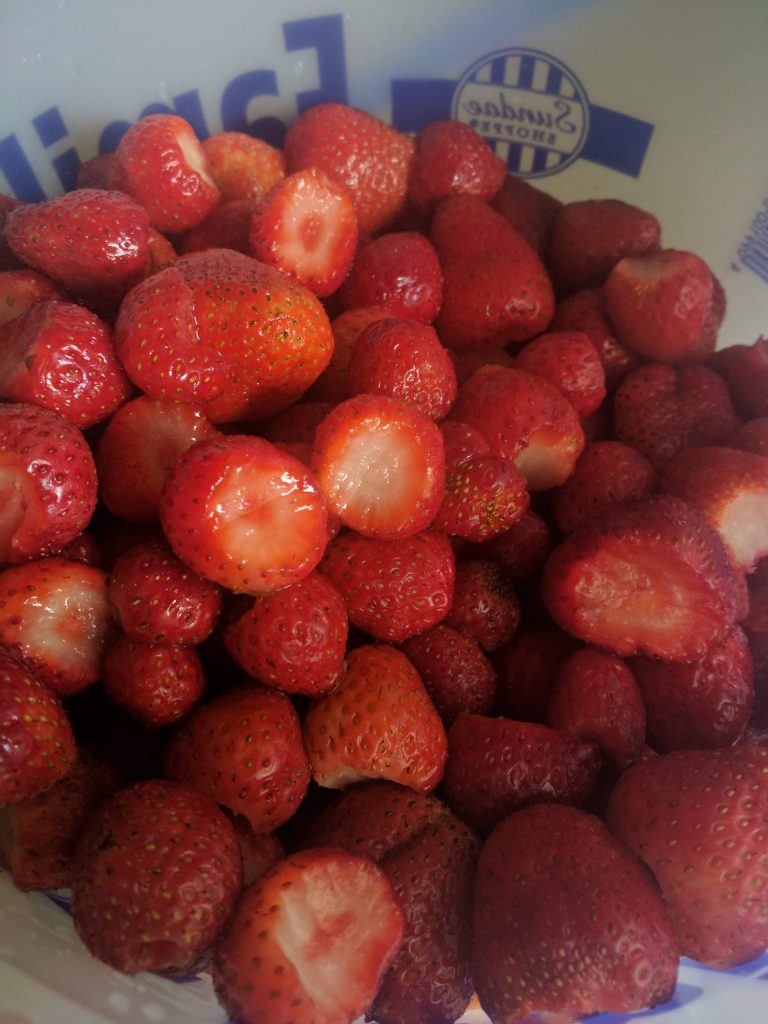 While picking the apples and pears, we sorted them into three categories: those for cider, those for eating, and those for the cows. Small fruit that looked like peeling would be a waste of time were pressed into cider.
Sharing food with people and animals means that it wasn't wasted. Still, some produce does spoil and get thrown out. I do my best.
More abundant provision examples
Through the years, God has provided abundant provision in other ways. When my husband was laid off from his job, God provided food for our table and money for our bills and needs. Sometimes the provision came in the nick of time, but it came. I'm afraid I tended to worry at times, but I was always grateful for the help. Why do we tend to fret when God promises not to forsake us? He has always provided.
Another time God provided insurance when our son had to visit the children's hospital for headaches. Our son started having extreme headaches while lifting weights. Doctors required he not participate in baseball and gym class until they determined the problem. This was during a time when my husband just got called back to work, literally. We had insurance for all the doctor visits. There was a disagreement between corporate and the union, so he was laid off again after a few months. (We decided we didn't like this game so my husband found new employment.)
When another son tore his labrum playing football, the cost of all the MRIs, surgeries, and physical therapy appeared daunting. I figured we'd be paying those off a long time. Again God provided through a raise my husband received.
God uses us to provide for someone else
At our high school, seniors are required to complete a senior project, which is often a community project, to graduate. My oldest son raised $3,000 through a biking fundraiser for a toddler with leukemia. He coordinated bike routes working with county departments and recruited volunteers for the water stations, safety personnel, and a meal afterward. It was a huge deal. Businesses contributed for advertising and t-shirts. My eldest daughter's turn was this fall. She chose to raise money through a walk fundraiser. She raised $3,973.60 for One Gift One Child. (My other sons chose big projects too like building a large hay shed for my dad and coordinating the local Food for America program for area fourth-grade students at a local, corporate dairy farm.) Whatever funds they collected would be a blessing, but God provided more than we imagined.
These are big ways God provided, but He provides even in the small stuff. I have days where I feel meeting a deadline or goal looks impossible. I see my daughter succumbing to freaking out about meeting school assignment deadlines when she looks at her work and school schedules. Yet, somehow it works out. It does. I don't know how, but it gets done, and every party in the situation is satisfied.
Whether it's a bountiful harvest, bills and unexpected expenses, or accomplishing projects and workloads, God has it all figured out.
The Bible tells us not to worry. Do all things for God's glory. Work for God, not people. Clear advice. One day when faced with abundance of any kind, I hope I will just smile and say, "God's got this." He does. Nothing will go to waste if we first seek His guidance.
Will you share a story about God's provision in the comments? Thanks.
If you enjoyed my blog today, please share it with your friends and invite them to subscribe, too. Thanks!