Answered prayers confirms God hears us
Answered prayers confirms God hears us
I know God hears our prayers. How? Experience confirms it. Today, I will share about answered prayers.
An answered prayer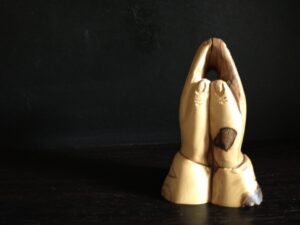 When my youngest daughter, Emily, neared her 10th birthday, she suffered with a sudden case of uneven legs. Prior to this, she suffered with strange bouts of a sickness that caused her to vomit for about 10 days each time. This worrisome condition caused a great deal of stress. During one episode, the doctor consider hospitalization because of dehydration. He didn't know what caused it. Tests revealed nothing.
One Sunday, after another sleepless night attending to her, the rest of the family went to church. Left with my own thoughts, worry consumed me. I'd give it to God then snatch it back. I decided to text my husband at church and ask if he could talk with an elder to come anoint and pray over Emily. After all, it says to anoint the sick with oil when praying for healing (James 5:14). I trusted he would get the message because he frequently checks his phone throughout the day because of his job. When the family returned, I met him at the door with high expectations.
"Did you talk with Ernie (an elder at the time and one of Pat's best friends)? Is he coming?"
Pat said Ernie wasn't coming. First because he never saw Ernie and second, because he never got any message because he didn't check his phone. My blood pressure rose, and I banged some pans as I prepared the noon meal. How could he not check his phone when he usually does? While I fumed and cried, I talked to God about my disappointment, frustration, and concern. I settled down when I decided to trust Him because He knew what was wrong and would heal Emily in His timing.
As I set the table, the doorbell rang.
Who was at the door? Ernie.
Why was he there? He said that he felt God tell him to come to our house to anoint Emily with oil and to pray over her.
God answered my prayers without any interference from me. I call this one of my personal miracles.
Other answered prayers
I've spoken of other such answered prayers like my desire to see eagles and to own cats with white fur, of accidents averted, and of God's provision when my husband was unemployed.
I need reminders of God's answered prayers because although I don't forget, I do, if you know what I mean. When I share these stories with others in person or in this blog, I offer hope for others and myself in our current trials.
Another answered prayer includes the time God provided us with a new, more powerful saw than the one we lost. I wrote about this for LIVE, which was published in October 2021. In September 2019, I prayerfully submitted my story. I don't know why I was so nervous, but I was, and I wanted the submittal to be perfect. After I submitted it, however, I noticed that the page numbers in the Word document had been changed. They weren't the same as the Word file on my computer. The pages were numbered out of sequence. It made no sense. While I tried to figure this out, a friend called to ask me something. During this time, I received an email expressing interest. That was the fastest acceptance I've ever had. That too was an answered prayer. In September 2019, I stepped out to freelance again. The acceptance encouraged me.
So, you see, I know God answers prayers. Sometimes I notice the answers long after they were given. Sometimes I see the answer immediately. Please share your own stories in the comments! They bolster our hearts with their good medicine.