Empty nest syndrome
Empty nest syndrome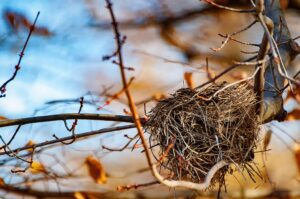 Did you know that empty nest syndrome is a real thing?
I didn't, so becoming aware of this has at least explained some of the feelings I've experienced. Some people struggle with it for a few weeks or months, but some for a few years. I guess I fall into the latter category. Lucky me.
I learned that a person goes through the steps of grief when they suffer with empty nest syndrome. These steps are denial, anger, bargaining, depression, and acceptance. Depression, when a person feels the deepest sadness, is the most difficult. Apparently, that's the one I'm stuck in.
Empty nest syndrome explained
Parents who are stay-at-home or full-time parents are among those who suffer from empty nest syndrome. Homeschool moms fall into this category. Being a parent is part of our identity, purpose, and motivation for getting tasks accomplished each day. Feelings of insecurity and doubt arise when our roles change. I relate to that. I homeschooled for over 20 years, so when my youngest headed off to high school, there was a sense of "what now?"
But I did have a plan, which doctors recommend. It's just that the pandemic sent those on a tailspin.
Stay-at-home parents aren't the only ones to suffer. Others who experience this syndrome include single parents, parents who hover, and parents struggling in their marriage. Those with a combination may feel deeper losses.
According to the website BetterUp, to overcome this syndrome, people should make more social connections to alleviate loneliness, seek professional help with a professional counselor to work through grief and emotions, set future goals to find a new identity or purpose, take up a new hobby or career, and reconnect with spouse. They also recommend self-care, staying positive, and communicating with your children.
My experience
Reconnecting with people, going out to eat, or even exercising with friends didn't help me with my slump. Often, I don't think people even noticed my sadness. Either I can put on a good mask, or they just didn't see it.
I mean, I don't go around confessing my sorrows, but I did try reaching out. One person advised me to get busy, but that wasn't what I needed. Some people may need to find activities and jobs to occupy their time, but my schedule is jam-packed. In fact, I wail about feeling behind all the time. Perhaps that is something I should address by slowing down and saying no more. After all, I learned that rushing about is something that the enemy of our souls relishes in. Who wants that? While I am with my friends, the time may be precious, but when I get into the car and head home, my pal sadness keeps me company again.
At a church function, a complete stranger commented that I struggled with loneliness. That's true. The people I spent most of my life with have moved on. But I can be surrounded by people and still feel lonely. I think loneliness arises from a lack of connecting with someone who understands you. And people are busy. I'm busy with all the tasks in my life, and my friends are busy with all the tasks in theirs. Busyness may proclaim importance in our culture, but I think our obsession with busyness is more a detriment than a compliment. I relish down times. I need quiet. Without peace and quiet, I cannot create. Creativity brings me joy. Broken expectations and busyness stole my joy and my peace. This just complicates the empty nest syndrome.
Making a new plan
I sought to find a new identity and purpose, a new hobby or career, but my plans didn't unfold as I expected or imagined, so that added to the sadness. I wrestle with feelings of failure now. These emotions are raw, big, and unrelenting, so I spiraled downward. My losses felt larger.
Recently, I concluded that I needed a new plan. Einstein said, "Insanity is doing the same thing over and over and expecting different results." I certainly don't want to fall into that pit. Wiping the slate clean though takes time because a person must complete the work and commitments previously made. And if you're like me, everything always takes way longer than I anticipated. Ai yi yi! But I think I will head in that direction and make a new plan.
Reconnecting with your spouse will alleviate loneliness. Communication and spending time together will draw a necessary closeness to fill the gap the empty house left. Sometimes spouses choose their own busyness instead, or perhaps they are trapped in a rat race they need to address themselves.
I communicate with my children, take care of myself, and remember my blessings. Saying something positive, remembering the good things in life bring hope for a moment, but conquering the sadness takes time. It's something I talk to God about anyway.
I didn't really want to share about this struggle, but perhaps opening up about it will bring healing for me and for someone else.
Did you struggle with any empty nest? How long did you struggle with empty nest syndrome? Please share.
Photo by Robert Thiemann on Unsplash.