Taffy triggers fair memories
Taffy triggers fair memories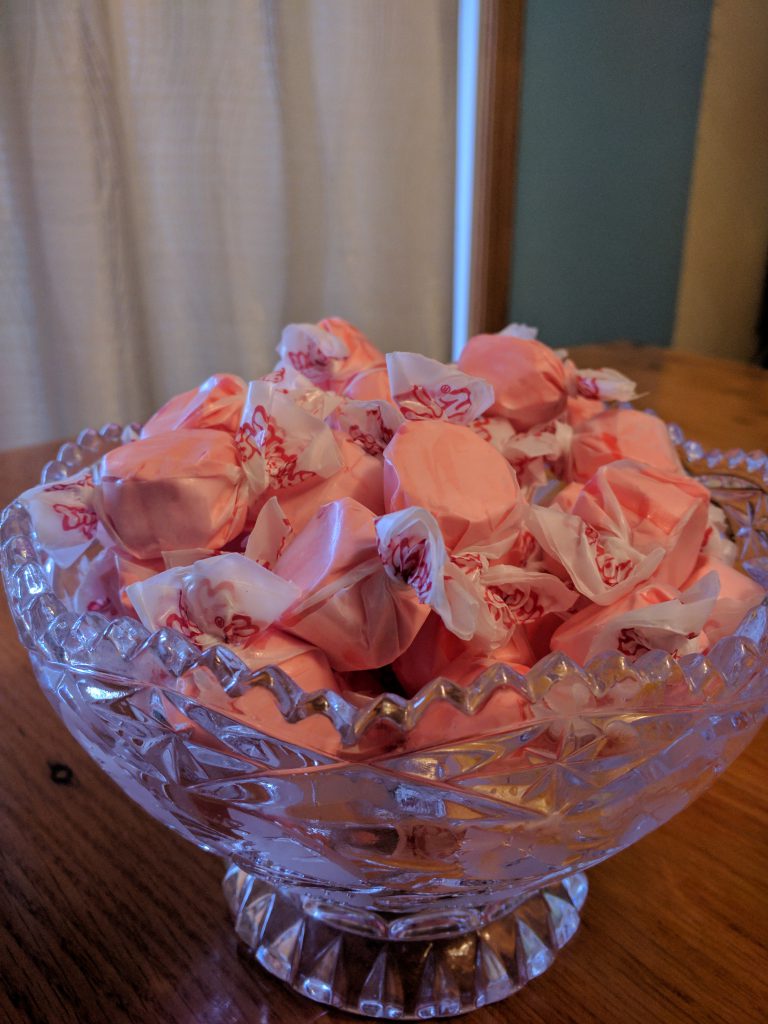 Taffy. Yum.
Sometimes one catches a taffy watching a parade, but the most common parade candy—at least in our town—would be Tootsie Rolls, but alas, that is a chocolate flavored, taffy-like candy. But for me, salt water taffy reminds me of my dad and the fair. I like that better than any other kind of taffy or taffy-like candy.
When I was a kid, my dad would buy different types of taffy at the county fair. A few weeks ago, on my way to retrieve a shopping cart at Farm & Fleet, I noticed a shelf with a variety of taffy. I skidded to a stop and plucked up a couple bags to see which flavor enticed me most. I decided on strawberry. The pretty pink lured me. I found my husband still browsing in the automotive section. He glanced in the cart, raised his eyebrows, and asked why I was buying candy.
Nostalgia, I said.
Like most things, memories are a bit sweeter than real life, yet I still enjoy the candy. Taffy requires more chewing than I recall, but I don't think chewiness ever bothers a kid.
Thinking about taffy triggered fair memories.
Taffy ties with fair
While I went to the fair many times in my life, my favorite times were when I worked at the fair as a county beef queen and when I worked at the fair taking pictures for my employer, a local newspaper. Viewing the animals, exhibits and shows and experiencing the various rides entertained me as a fair goer. Over the years, I attended country music performances, rodeos, tractor pulls, and demolition derbies. Food attracts people to the fair too: ice cream, cream puffs, beef and pork sandwiches at the Ag Chest trailer, cotton candy, and of course, taffy. I know there's more, but I haven't tasted it all. Still, the times I served and captured memories for others to clip out of the newspaper stand out as the most fun and rewarding. Maybe the anticipation in the air of others flavored these times. Or maybe it was my adrenaline.
The year as a county queen kept me busy. I attended several county fairs handing out ribbons to 4-H kids, welcoming the crowd to the tractor pull, and serving sandwiches and cream puffs in a food trailer. Full days meant a good kind of tired.
Before we were married, my husband and his friends participated in the demolition derby. I remember just hanging out, clueless to what was so exciting about it. It still isn't my thing, but you know, you go to be with the people.
A few years ago, my daughters went with friends, who are involved in 4-H, and spent the entire day tasting their way through the fair and tagging along. They visited tents and tried games and trivia. Their favorite tent involved answering Bible questions. They had a blast there. I'm sure they delighted the hosts with their enthusiasm.
Attending the county and state fairs highlights many people's summers. Members of 4-H cherish other types of memories, often involving competitions, ribbons, and selling an animal they trained. Cousins, uncles and aunts share memories about these times.
More thoughts
I'm not even sure they sell taffy at the fair in boxes like they used to. I never found such a place. This is probably for the best since then I might be tempted to buy by the box rather than the bag.
I never made taffy either, but I remember reading about it in the Little House series. Almanzo's piglet glued its mouth shut with taffy. Let that be a lesson: don't overstuff your mouth with taffy. Or at least, don't let your animals have any.
That's a good lesson still: don't overeat.
I share the taffy with my kids. They ask me as I toss them a pink treat why I bought them. And I tell them just as I have you: just for the memories.
Do you have a candy that triggers a memory? Please share.
Please share my blogs. Subscribe to receive them each week in your email. Thanks!