Ways to include Easter Scriptures
Ways to include Easter Scriptures
This week began with Palm Sunday, and tomorrow is Good Friday, leaving us three days until Easter Sunday or Resurrection Sunday. During this week, I like to read the related Scriptures with my family. During my homeschooling days, we read these during our Bible lessons for the day or before our treasure hunt on Friday or Saturday. Today's blog offers a few suggestions for incorporating Easter Scriptures into your homeschooling day.
This is important since it is our most important Christian holiday. I never wanted to detract from the real meaning of the holiday with the bunnies and eggs on Sunday. The resurrection of Christ is the most important focus for this day, though we do enjoy getting dressed up and gathering with family, like we do at Christmas.
I put the Easter Scriptures in order to the best of my ability. I will share how to do this by weekday first.
Palm Sunday readings
On Palm Sunday or on Monday morning during your family devotional time, read Matthew 21, Mark 11, Luke 19:28-48, and John 12 which includes the triumphal entry and the clearing of the temple. (You certainly can read more verses and chapters, but if time is a concern, these are the ones not to omit.)
Thursday readings
Matthew 26-28 starts with the plot against Jesus. Jesus tells his disciples what will happen. Then he is anointed with expensive perfume in Bethany before Judas goes to the chief priests to betray him. The Lord's supper, verses 17-35, and praying and being arrested in Gethsemane, verses 36-56, happens on Thursday. Jesus stands before the accusers and Peter disowns him all before the rooster crows early Friday morning.
If you want to read the story by day rather than at once, read Matthew 26, Mark 14, Luke 22:1-62, and John 18:1-18 on Thursday. Continue with the next chapter on Friday.
Friday readings
In Matthew 27, Mark 15, Luke 22:63-23:1-56, and John 18:19-19:1-42, Judas hangs himself and Jesus meets with Pilate and Herod. Be sure to read each because they offer some different details. Notice what is the same and what other information we glean.
After attending a noon ecumenical service, we sometimes read about the crucifixion and death of Jesus around 3 p.m. It was about the sixth hour when darkness came over the whole land until the ninth hour, which translates from noon to three. Jesus had been put on the cross at the third hour, 9 a.m. (Mark 15:25).
The readings conclude with Jesus buried in the tomb, and everyone waiting until after the Sabbath to do the final preparations.
Resurrection Sunday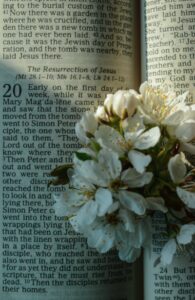 Sunday morning, read Matthew 28, Mark 16, Luke 24:1-12, and John 20:1-23 about the resurrection through to the great commission. John includes the details of appearing to Mary. If you are rushed to get to services, just read it later in the day.
Monday after Easter
Read Luke 24:13-53 and John 20:24-21:1-25.
Another option is to follow these readings Monday after Palm Sunday to the Monday after Easter Sunday and discuss during your homeschool Bible study. The important thing is to just remember to include the Easter Scriptures and the true meaning of this holiday with your children.
If you want to take this a step further, you can incorporate verse memorization and begin the memorizing on Ash Wednesday through Lent.
Conclusion
I have offered you the options of reading all this on Thursday, Friday, Sunday, and Monday, or by reading it during the week prior to Easter and finishing the week after. Reading these each year will help everyone remember the story, but you can also begin memorization on Ash Wednesday. Whatever choice you decide, incorporating the Bible into the remembrance will honor the Lord.
I hope you have a blessed holiday. Do you do something similar, or do you choose one gospel each year and rotate through the four?
Photo by Anuja Mary Tilj on Unsplash.